Uncovering Sin in Everyday Life
3524 Tennyson Street, San Diego, CA 92106
Reception: Saturday, May 9 3:00 - 5:00 pm
Show Hours: May 9 - 10 and May 16 - 17 12:00 - 5:00 pm
Pride. Greed. Envy. Wrath. Gluttony. Sloth. Lust. For seven centuries the seven deadly sins have captivated and inspired artists. Now the San Diego Mesa College Museum Studies Program tackles the issue with a postmodern look at sin in everyday life. More than thirty-five works by ten artists - ranging from emerging to established, and serious to satirical - were selected for their portrayals of cardinal sin. Through painting, sculpture, photography and video, these artists show us that sin is alive and well in contemporary society.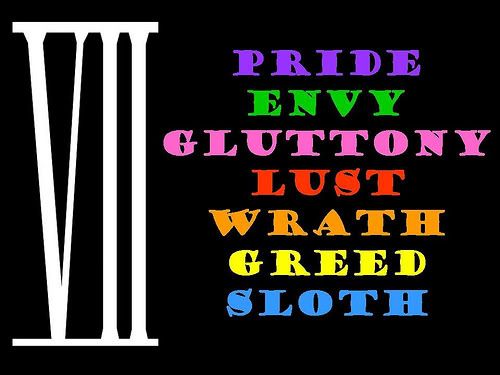 VII features work by eighteen-year-old Taylor Marie Prendergast, who reinterprets the intense Expressionism of Austrian painter Egon Schiele, no stranger to sin himself. Other artists include master carver Lorenzo Foncerrada, bringing his elegant Art Nouveau touch to sin. David Russell Talbott's pulp-inspired acrylics will shock and amuse, while Anna Stump's secretive wrapped paintings whisper of sin behind closed doors. Photographers Aaryn Belfer, Kelly Davis and Katie Gardner find sin in alleyways, county fairs, and bathrooms, and new media artist Lisa Hutton wrenches open our perspective on consumption and greed. These are just a few of the talents assembled in this exhibit.
VII is on view for two weekends only, at an open house in a private residence in Point Loma. Come for the sin, stay for the fun!