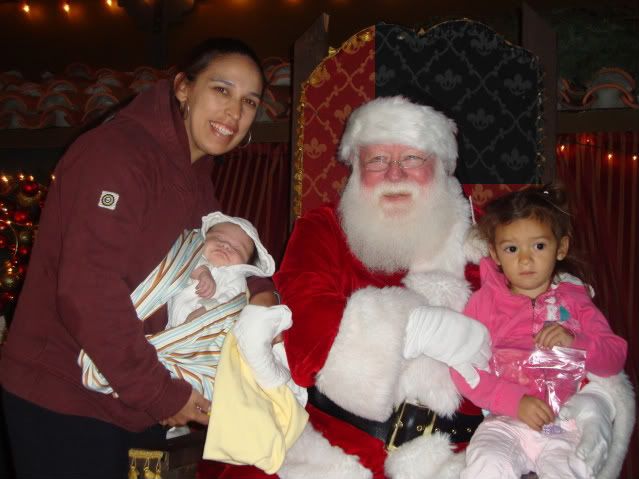 I'm not going to deny that I am a sucker for the holidays. It always happens around Halloween for me, since it's a holiday I'm not particularly a fan of, when the clocks roll back, and the temperature drops (brr...below 70!). For me, it's not about religion (of which I claim none), but it's a time of family, tradition, nesting, reflection and hope for a new year. Add all the parties and gatherings, and it's just a really good time to tell the people around you that you love them.
Naturally, if I cheese out on Christmas by November, I have a lot of Christmas/Winter/Holiday music. I still geek out on the Ally McBeal Christmas album because of
Robert Downey, Jr.'s rendition of "River
" by Joni Mitchell. I bought my mom Il Divo (mistake!), I even have a Cherry Poppin Daddies Christmas record from those swing dancing years. While those gather dust, there are some Christmas records I still love...the
Sufjan Stevens box set
is terrific, I like the
Bright Eyes
Christmas album, and I even hold on to an old 91X Christmas compilation that was put out by Loudspeaker in 1993, with perhaps my most favorite original Christmas song, "Tomorrow Is Found" by Gregory Page.
Every year, artists and labels and businesses all get into the Christmas game and sometimes it is to our benefit. Yesterday I went to L.A. to see AM and Sara Lov at Hotel Cafe and it was in celebration of AM's Christmas EP which can be found on iTunes and
Amazon
. Perhaps my favorite new Christmas compilation came from Coffee Bean & Tea Leaf. The disc is only $9.99 in their retail outlets and has songs from Death Cab For Cutie, Grant Lee Philips, My Morning Jacket, Youth Group, and even Sarah McLachlan doing her own version of "River". While I don't think any of these songs were specifically recorded for this compilation, it's a good one. I'm all nestled in flannel pj's with a head cold, but all this Christmas talk makes me think it's about time to put up my decorations. As Youth Group sings, "don't you just love this time of year?"
Some more Christmas stuff I've been sent to pass along (right click to download):
Findlay Brown- "Last Christmas"
The Hush- "Wishing You A Happy Christmas"
Brett Dennen-"The Holidays are Here (We're Still at War)"
(Links to YouSendIt)
Jer Coons- "White Snow"
(Links To YouSendIt)
Orba Squara "What I Want For Christmas"
Orba Squara "A Blue Christmas"
There's also a site to download songs from "
A Very Special Christmas 7
" which is available in big box retail outlets for $14.98 and continues to benefit Special Olympics. Click the link then follow instructions on the page.