For those of us lucky enough to catch Dead Confederate and Transfer at the Belly Up last night (sorry, was there too late for Heavy Young Heathens), we know it probably isn't very likely that we'll get to see them for a mere $6 ever again, but as they continue on the road playing similar radio shows, tonight is a great opportunity to catch them once again in a small, intimate venue. Our Transfer boys are headed up to LA to perform with Dead Confederate at Spaceland for "Club NME". If you have the freedom to roll up to LA for the night, I highly recommend that you do. If not, help spread the word, tell your friends that this is a show not to be missed.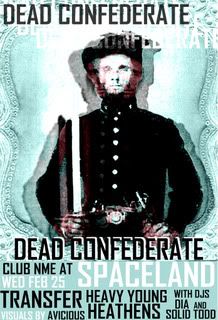 Here's some video from my friend in case you missed the show:
Dead Confederate "The Rat"