While my job search continues, it's a little hard not to completely enjoy life on the dole. I've never really longed to be rich, but it sure would be nice to not have to work and be able to do this little bloggy thing, some volunteer work, and participate in things that I might not be able to do were I sitting in some office doing a nine to five. That said, I felt like I had no excuse to not participate in the Anti-War Protest/candlelight vigil that took place in cities all across the nation.
I've participated in various MoveOn.org events in the past. Phoning voters in other states, hosting movie parties, and sometimes, just showing up counts in big ways.
I took the bus downtown (I'm limiting my driving these days), and arrived at the rally right at 5 p.m. I showed up unprepared; no sign, no candles, no political t-shirt. Fortunately there's a Longs in Horton, so I bought a small posterboard and a super-duper sized marks-a-lot marker and made a sign. People had signs of all sorts- calling for impeachment, for the safe return of troops, for an immediate exit in Iraq and the Middle East. My sign simply said "Enough". Enough war. Enough Bush. Enough Lies. Enough Complacency. Just enough already.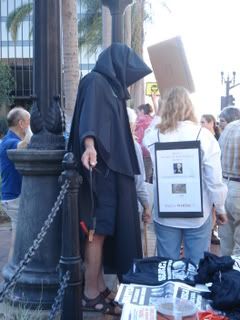 I let the people around me be angry, yell, whistle, and chant. I think protests are solemn events. I think of the soldiers and civilians dying. I think of how too many people don't care. I think of how subversive this administration has been. I think of those two election days. It can all just be overwhelming. So I was quiet and stood on the street just holding my sign.
After a while, there was a speaking portion. Bob Filner spoke and pointed out some statistics that shocked the hell out of me. He said the number of Vietnam Vets who have committed suicide now matches the amount of US soldiers who died there and pointed out that Bush has suppressed any investigations about PTSD. He said that we are spending $1 Billion every two and a half days. He said that 95% of soldiers are surviving IED explosions but with more severe brain injuries and missing limbs.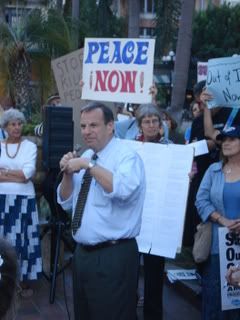 After Filner,
Marjorie Cohn
spoke. She's the president of the National Lawyers Guild, a professor at Thomas Jefferson School of Law, and author of several books, including
Cowboy Republic: Six Ways the Bush Gang Has Defied The Law
and talked about the criminal activity of the administration. There were a couple other speakers, including Gloria Daviston, an Army vet who is now part of Veterans for Peace. She happened to be my favorite speaker because her message was simple: show up and speak up. "When you're tired of the protests, there is a US Soldier, Sailor, Airman or Marine in the trenches in the desert of Iraq fulfilling his duty, so you go anyway. When you're depressed and overwhelmed by everything going on, you go anyway because there is a US Soldier, Sailor, Airman or Marine that is overwhelmed in the middle of the war. You go anyway."
Sometimes the protests bring people on the fringe... there was the one guy (as always) yelling to make pot legal. There was one guy screaming in the faces of protesters with his middle finger out yelling that he was just there expressing his own protected freedom of speech. He's right, you have the freedom to be an asshole. Doesn't mean you have to be. Everyone else was relatively mellow.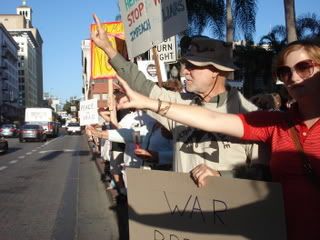 The crowd started to thin out and I don't know if they ever got around to burning candles, but I headed off to catch some happy hour bargains at House of Blues. $6 for catfish nuggets, fries and a Peroni is one of my favorite bargains in town.
I wanted to head to the Casbah tonight, but my bus got my home a bit later than planned and I had a lot of web-stuff to catch up on. Plus, I'll be out every other night this week... Swedish Models at the Belly Up on Wed, Eulogies at the Beauty Bar on Thursday, wherever the wind takes me on Friday, the Pop Luck on Saturday followed by the Alibi. Check back for pics and more of my ramblings. Holy shit, how did it get to be 5 a.m.?