Saturday, 9/13/08 saw a very fun evening of art and music descend upon North Park.
The Art Produce Gallery
on University next to the Cafe Carpe Diem held an exhibit opening for URBAN DETRITUS, graffiti art by KAI ONE & Kevin Freitas. The exhibit looked at the difference between graffiti and art. Part of the exhibit was a live graffiti painting performance on two sides of clear plastic that had been taped the the windows.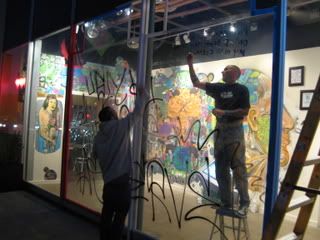 Wandering down to Ray Street we noticed the large crowd out for North Park @ Night (Formerly 'Ray @ Night'). A mariachi band was playing on the street, and all the galleries had interesting work on exhibit. A male and female were wandering the galleries wearing nothing but body-paint and were dressed as Parisian waiters. They were advertising the new location of Cafe Forte.
The rest of the night, photos and a video of Tropical Depression performing their rooftop show after 'Keep on reading'...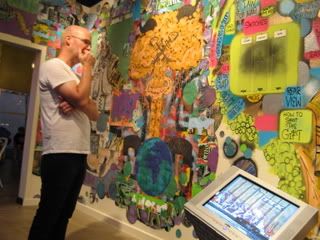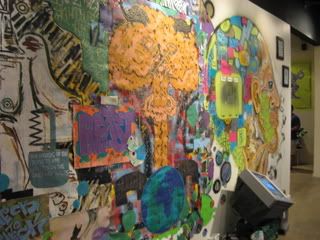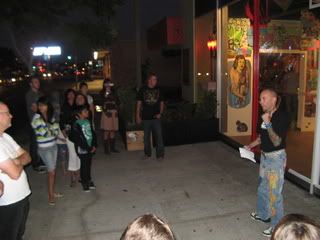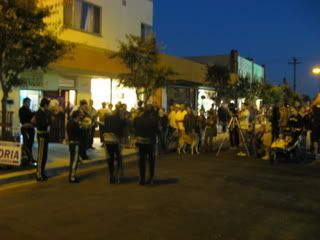 We left to go check out the "Eco-palooza" annual green buildings / art / fashion event held just one building north of The Office Bar at Zagrodnik + Thomas Architects LLP. Free wine and snacks abounded at each stop of the night, and seeing the outfits made from recycled materials really was an interesting sight.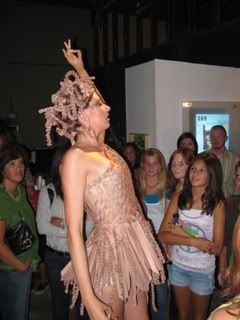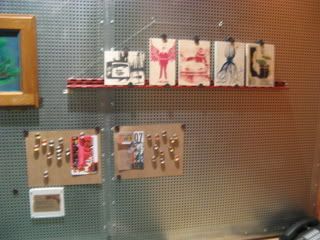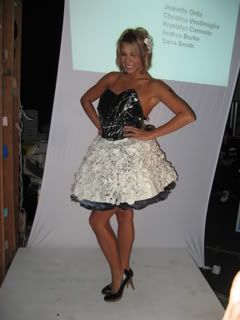 By this point the wine was kicking in nicely and we went back to see Tropical Depression perform on the roof of Planet Rooth Galleries for the 7th Anniversary of the gallery. The owner of Planet Rooth got on the mic first and thanked everyone for making Ray @ Night such an event in the community. Then the band performed a solid 30-45 minutes of music. The way the light projection and fog machine was coupled with the wind and the great sound.. it was a cool experience to be sure.






We ended up the night watching Caiu (brazillian music) perform live at The Office Bar, making me have hope that live music will be a semi-regular thing at that venue and that it won't always be DJ nights.