Sunday night was going to be a mellow night but then I got a text from a friend reminding me that the first show of the
Bushwalla
&
Dawn Mitchelle
"Acoustic Mayhem" tour was kicking off that night at
"Across The Street"
the current music home of Twiggs' Coffee Shop musical performances in Normal Heights (held in the Mueller College of Holistic Medicine massage room). Dawn has a beautiful voice and has that singer/songwriter acoustic guitar thing down pat. The dumpster funk rhymes of Bushwalla brought in a packed crowd. Earlier in the year he had done a residence here but since he had not done a show in san diego for a while, I could understand the huge crowd. He did plenty of funky fun songs and a few audience involvement singalongs as well as several freestyle sessions using audience contributions.
By 11:30pm I was ready to call it a night, but considering I had heard an awesome band called
Mad Juana
featured on Tim Pyles
Local 94/9
radio show earlier in the night and considering that they were playing a end-of-the-tour show that same night at Bar Pink, I decided to check it out on the way home to North Park.
When I walked through the door of Bar Pink and saw a beautiful girl dancing with a sword and then pulling out two live snakes... I knew the show was going to be good. The snake charmer was the opening band, and Mad Juana rocked the small crowd with very funky gypsy/accordion/sax/trumpet/violin/world style music. The violin player had skull bones face-paint on and was wearing a head to toe mariachi suit while the lead singer busted out a Melodica on some songs. The band was well dressed and very tight. All I know is, they brought the house down. People were losing their shit left and right. The most fun and dancing I've had at a show in recent memory. Plus it was free. Bravo Bar Pink.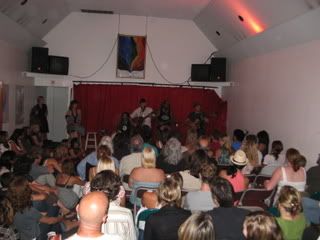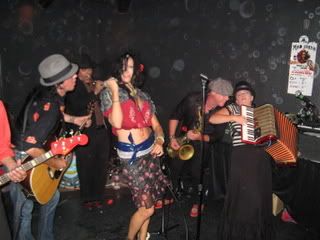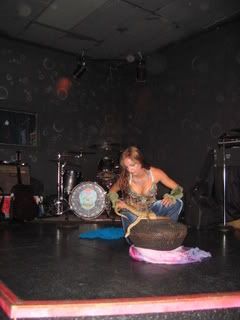 Click 'keep on reading' for more photos / videos of the night