Slightly Stoopid, the Ocean Beach, San Diego band that is a fusion of acoustic rock and blues with reggae, hip-hop, and punk, seems to be doing pretty well for themselves. Massive tours and festivals, a rabid fan base, collaborating with G. Love and Special Sauce. The band certainly makes every OB boardwalk guitar player feel like he can one day make it just like they did. Many OB-itians i'm sure are going right now to Cow Records on Newport to pick up Slightly Stoopid's recently released album "Slightly Not Stoned Enough To Eat Breakfast Yet Stoopid". While the album title is a mouthful, the music does have a beat you can groove to and goes well with morning dawn patrol surf sessions and breakfast burritos at Nico's. The album even has a more 'dub' feel then your standard sublime sound-alike band. The tracks do have some good variety, ranging from straight dub to instrumentals with horns and some synth, to just straight up groove music. At times the album even dips into a bluegrass / greatful dead style pickin' style that seems slightly out of place on the disk. Overall the album still has a good vibe from start to finish and is great to put on in the background of your lazy post-summer bbqs.
Also keep in mind that last year's Slightly Stoopid album was nominated for a 2008 San Diego Music Award for album of the year (Slightly Stoopid -
Cronchitis)
as well as song of the year (Slightly Stoopid -
2am
). Support local music and see if they will win the SDMA on September 17th:
http://sandiegomusicawards.com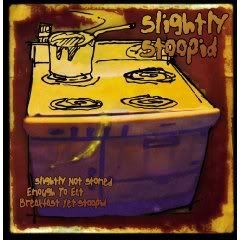 ---
Pepper formed in Kailua-Kona on the Big Island of Hawaii in 1997. Since then, they have put out the successful "Kona Town", toured with 311, performed on the Vans Warped Tour, and carried the "Sublime-sound" onward from the 1990's to today. Their new album "Pink Crustaceans and Good Vibrations" continues with more of the same. Beach reggae pop-rock that has that Sublime sound. They routinely play and sell out Canes in Pacific Beach. Close your eyes and imagine the crowd. Yes, you've got it. Backwards hat bro's and beach blonde PB chicks. And weed. Lots and lots of weed smoke. Expect to see it all in full force at the show this Saturday.
---
Slightly Stoopid and Pepper play this Saturday, September 6, 2008 at 06:30 PM at San Diego State Open Air Theater. Tickets are available via ticketmaster here:
http://www.ticketmaster.com/event/0A0040A6C19674DD