Time to kick on those checked Vans and don your best acid-washed jeans cause Club 80's is back!
I know, most of you didn't even know it was gone, but August 21st marked the last Thursday of Club 80's at San Diego Sports Club. Earlier this year long time San Diego promoter/DJ Bryan Pollard moved Club 80's along with his other DJ night Klub Therapy from it's long established residence at Shooterz (after the bar was sold and shut down) to San Diego Sports Club. Unfortunately, in what must have seemed like a bad case of Déjà vu, Bryan once again found himself without a home for his beloved night. As most of you know by now, SDSC was sold in August and the new owners want to focus more on live band nights and having the weekly Thursday night 80's club caused too many missed opportunities to book good line-ups. So the night was given the axe.
Luckily for us (or me at least), the hiatus was short lived and "San Diego's original Club 80's" is coming back very soon and in a bigger way. Not only will the weekly club continue, now on Wednesday nights at Beauty Bar, but also every 2nd and 4th Saturday at Bacchus House. Each club will have a Grand Opening starting Saturday, September 27th at Bacchus House and then Wednesday, October 15th at Beauty Bar. Klub Therapy will continue every 1st Saturday at SDSC.
Ahhh... wonderful! I can now wear my sequined glove out in public again without feeling like a dipshit.
Official announcement, links and flyers after the jump.



Grand Opening Night September 27,2008
Every 2nd. & 4th Saturday of Every Month : Club 80's
New Wave-New Romantic-Underground 80's
Bacchus House 3054 University Ave. North Park,S.D. CA 92104
DJs Bryan Pollard, Sickboy, Stem
$3Before 10pm $5After
619 299 2032


http://www.msplinks.com/MDFodHRwOi8vZ3JvdXBzLm15c3BhY2UuY29tL2NsdWI4MHM=


October 4,2008
Every 1st. Saturday of Every Month : Klub THERAPY
Industrial-Gothic-Darkwave -FetishDance
San Diego Sports Club 1271 University Ave. Hillcrest S. D CA 92103
DJs Bryan Pollard, Mindkiller, Necrotica
$3Before 10pm $5After
619 795 6749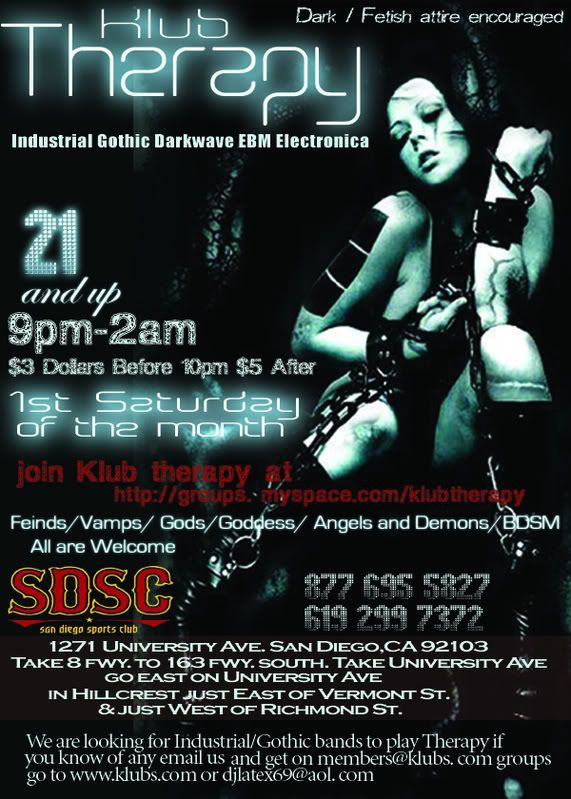 http://www.msplinks.com/MDFodHRwOi8vZ3JvdXBzLm15c3BhY2UuY29tL2tsdWJ0aGVyYXB5


Grand Opening Night October 6,2008
1st. Monday of Every Month. Gimmie Gimmie Gimmie
Dedicated to Old School Punk New Wave
Kadan 4696 30th St. North Park,S. D. CA 92116
corner of Adams Ave. & 30th St.
DJ Bryan Pollard and DJ Stem
FREE All Night Long
9pm-2am
Drink Specials and strong stuff drinks
619 640 2500
request 619 795 6749

http://www.msplinks.com/MDFodHRwOi8vZ3JvdXBzLm15c3BhY2UuY29tL2dpbW1pZWdpbW1pZWdpbW1pZQ==


Grand Opening Night October 15
Every Wednesday Club 80's
New Wave-New Romantic-Underground 80's
Beauty Bar 4746 Elcajon Blvd. S. D CA 92115
DJs Bryan Pollard, Sickboy, Stem
$2Before 10pm $4After
21& Up
619 516 4746


http://www.msplinks.com/MDFodHRwOi8vZ3JvdXBzLm15c3BhY2UuY29tL2NsdWI4MHM=


http://www.msplinks.com/MDFodHRwOi8vd3d3LmtsdWJzLmNvbQ==
office 619 461 3825
request and fax 619 795 6749
toll free 877 695 5827