The first night of our tour with WHITE LIES and CROCODILES was in Lille France. Excited for the change of pace, we were happy to join this bill and turn the page to the next series of shows. Met with everyone involved on the tour…both bands and crew with friendly conversation and felt at home straight away. Had the feeling right away that we were going to have a great time together. We were caught off guard when the boys in WHITE LIES brought us a bottle of champaign as a welcoming gift. Big respect and humble gratitude for a classy showing of chivalry…true gentlemen, those lads.
First show went down well and we made our way to Amsterdam. Got to the hotel early with plans to explore the city but were thwarted by the keys getting locked in the van. I was able to pick the lock with a hanger after about 45 minutes of frustratingly steady concentration.
This was just the beginning of our caper and Jesus, what a series of events it was…I'll start with the show. Heineken Music Hall
6,000 capacity and SOLD OUT in advance! We took the stage and felt like we were playing a festival. Great sound and warm response. CROCODILES tore through a great set and ended with "I Wanna Kill". I'm a fan of the songwriting and tones of these guys. It's well thought out and I have found myself with their melodies in my head, day after day. WHITE LIES had an extra rig of lights and production for this show and, along with sounding immense, were quite a spectacle. I can definitely appreciate this band's approach as well. I'm a sucker for epic choruses and they seem to have it dialed. All in all it's a great line up and we are happy to take part. After the show we headed to the Red Light District to meet up with CROCODILES and check out the sights. It was my first time in Amsterdam so I have to admit, I don't think I blinked. I have never seen so many bicycles in my life.
It looked like Critical Mass was an everyday occurrence. We got to the Red Light District and walked across the canal separating the walkway. Huge, beautiful swans glided back and forth in the water, despite the advertisement and intent of all that surrounds them.
AMSTERDAM INVASION - We spent time hanging with the lads and lassies of the Crocs and enjoyed window shopping in the overcrowded atmosphere of ill repute. Once we had enough, we went back to our hotel, bedded down with a buzz and laughed our asses off at Card's spot on Sam Elliott impressions before falling asleep. 4:36AM - Our hotel room door gets KICKED IN and four over-sized men start filing into the room speaking an unintelligible language…WHAT THE F#&K!? For some reason I took the recommended defense as if I were being attacked by a bear and jumped out of bed and started toward the door, yelling and waving my arms around. I can't say why, I just reacted that way…oddly enough it worked and the strangely large, intoxicated intruders fled out the door and down the hall, seemingly just as startled as I was. I walked out into the hall to get a better look at what the hell happened and saw a guy laying on the ground, blotto drunk with his friend dragging him down the hall by his arm. I slammed the door shut and tried to fall asleep…good luck. I guess they were probably too hammered to figure out that their key wasn't working because they were at the wrong room and decided to kick the door in. Nice one!
Headed off to Hamburg with little sleep and a slight hangover, only to be pulled over by an unmarked German Police car. lined up on the side of the road and frisked as the drug dog sniffed through all our equipment searching for any remnants of the night before.
Clean bill and off again…damn. This series of stressful events left our heads spinning but I guess that's the way it goes on a caper of this nature…never a dull moment. Next stop Oslo, Norway…
So far we have seen the scenery change to ice and snow around us.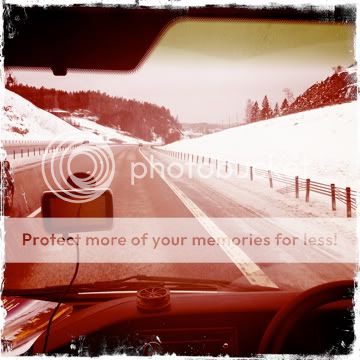 We crossed the tunnel under the ocean and when we emerged and drove across a bridge over the water, we saw a capsized boat at the frozen edge of the Baltic Sea…
Oh my gentle Jesus, what's next?
FOLLOW TRANSFER: