I'm sorry my posting has dwindled. My first two days of work were really good but really busy. So much so that Friday night I was wiped out and fighting a cold, so I stayed in. Makes me wish I hadn't squandered those three months off...maybe I didn't
really
need all that sleep. And maybe all those nights of watching TV until the sun rose could've been more productive.
Oh well.
But let me say, the job is rad. I actually get to use my brain! And Excel (I am an Excel geek)! And Math! And people in the office actually Smile! And when there are meetings, stuff actually gets done and decisions get made! It is very satisfying at the end of the day, let me tell ya. And I literally have no time...from the time I walk in the door until it's time to go home, I have projects to do so there's no surfing or daydreaming or even emailing, which is a great thing because time zooms right by. I am happy.
Lest you think I'm ignoring my local music, I've been home almost all afternoon loading every single local album that I can find so that I can have a good mix of local stuff on the iPod for the show at the Ken Club on Thursday. If I don't have your CD, sorry. I've got what I've got. And extra special thanks to the bands who do whatever it is they have to do so that iTunes can get the album info without me having to input band names manually. All those demos without track listings are really bumming me out. But I do have a good collection of San Diego music from the past and present. It was fun to dust off the old Macananys album, and stuff from the Rugburns and Rust and Den of Thieves and Blacksmith Union and Three Mile Pilot to mix along with new stuff from Grand Ole Party and The Stereotypes and Emery Byrd and The Silent Comedy and The Drowning Men and Republic of Letters and on and on and on. I've only loaded 31 cds/demos and am not even a quarter through my collection. I have my work cut out for me. I intend to just do a major random shuffle of all this stuff that will play on the bar side the night of the one year anniversary of this blog. Yay.
I know there are some other things going on this Thursday night (The Hold Steady for one), but I would really love to see some of the faces of people that have been reading here and all the people who've commented, e-mailed, showed support for what I'm doing here, and especially those that have bought me drinks over time :) Plus, it's gonna be a great lineup of music, and we won't keep you out too late. And it's free. Did I mention that?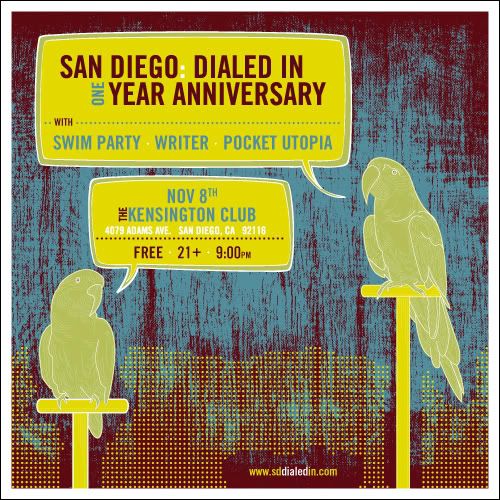 I'll try to post my pics from Wednesday night soon, but I'm cleaning (everyone else's house still all ashy?) and uploading and downloading and all kinds of stuff and my BFF is in town this week from England for the Neuroscience conference so there might be a deviation in my usual routine.
Some things worth noting:
1. It's not too late to send me your band news for next week's CityBeat column. I'll be finalizing the draft tomorrow. Get on it!
2. I am helping to present the Great Northen/Robbers On High Street show at the Casbah on Wednesday. I should have a couple pairs of tickets for the show, and I have an autographed CD and a t-shirt from Robbers on High Street that I'll be giving away next week. Check back for that.