This weekend I decided to take a bit of a break from my usual and really didn't do a whole lot of anything. Friday was a mellow evening until I went through my myspace bulletins from earlier in the week and realized it was Martin's birthday. Being that he lives just down the street, I walked over and chilled at their party until about 3 a.m. It was a good time and his friends were cool and I got to hang out with some friends whom I hadn't seen in a while.
After the party, I went home and was playing with my pets who were excited to have me home. So excited that one of them tripped me and I landed face first against my screen door when I was intending to close up the house for the night. Um, yeah, that left a mark. (take the jump to see the results)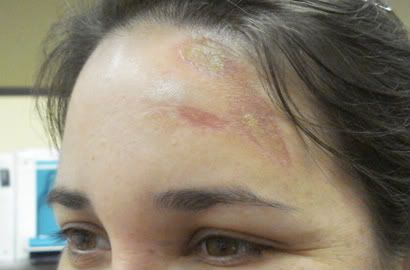 Ouch. I wish it was a better story- some bar brawl or getting caught in a mosh pit or something, but alas, that's the story.

As anyone in San Diego can atest, this weekend was hot as hell- too hot for my comfort- so I curtained up my house and spent the entire day writing, napping, and being a total chick and watching Lifetime movies.

It wasn't until Sunday that I motivated enough and did some cleaning, some shopping, then went to the House of Blues for Say Anything, Manchester Orchestra and the others, but I took almost 300 pictures, so they'll take a while to filter and upload.

Anyway, this week is gonna be a good one so I'm just getting through the day and hopefully the week will work out to be a good one.