Ragged is this little supplemental magazine to Filter Magazine that comes out each quarter. The latest issue features San Diego's Grand Ole Party. Other featured artists include Kate Nash (cover), Monte Negro, Gran Ronde, Thrice, Switches.
The prize pack will be sent to you with a copy of the magazine as well as CDs from each of the artists mentioned. Boo Radley will pick a winner on Friday.
E-mail me with the subject "Ragged" to sddialedin AT gmail DOT com with your name, mailing address, and a contact phone number.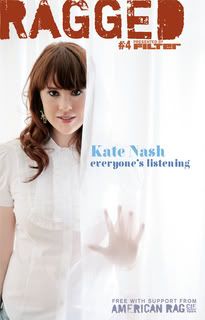 In the meantime, you can download the magazine
here
.
I've got some other contests coming down the pipeline, too. Stay tuned for some Vinyl from The Muslims and Sweettooth Records, tickets and CDs to see David Ford at the House of Blues this Wednesday, and some other random things coming up.