As I mentioned, last night was super fun. I would say "off the chain", "off the hook", or "off the hizzle" if I spoke that way, but I do not, so I will stick to "super fun".

TNT was a bust for me because I got there too late. The lines were ridiculous and holding people back due to capacity issues is lame. Since the bands were on the trolley deck/patio, there should be an alternate entrance to skip the museum entirely. I realize it defeats the purpose in a sense, but so does standing in a line of 50 people for an hour. The line at the original museum wasn't any shorter and for some reason security was not giving wristbands at the patio (where there were b-boys breakdancing). When an event grows, they need to add points of entry and bars, not reduce them. TNT has just gotten too big to even be fun, I missed all the bands just trying to find parking, so after finding CatDirt and CatDirtWife, we had a beer at St. Tropez and headed to the Casbah.

We didn't pay much attention to Suzan Hurtuk. I thought she sounded good but I was not in a quiet music mood, so we hung out at the back bar during her performance.

When Silverbird played, the bar filled up quite a bit. It was only their second performance and my first time catching them. I liked them, though they were less alt-country than I expected. I thought they kinda sounded like Jellyfish with a splash of alt-country (but not much). Here are the pics:




Here's Morgan, who is drummer of Silverbird, not Vinyl Radio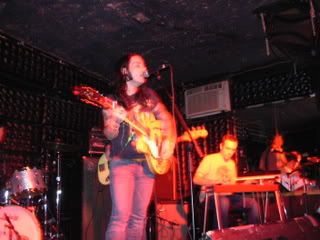 After Silverbird, we headed to the Beauty Bar for some booty shaking. I was told I was on the list but was not, but found Rotny and he said I was in. Was there really a free Powder Room list? I don't know, because other people "on the list" had to pay.

I was happy to see Bryant behind the bar because he pours 'em like I like 'em.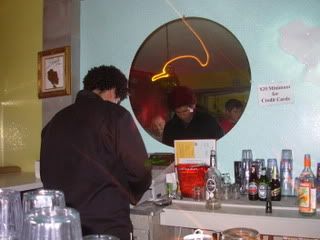 Flosstradamus was rad. They got me to dance. And I DO NOT dance.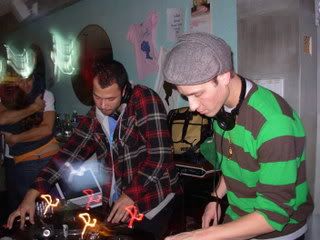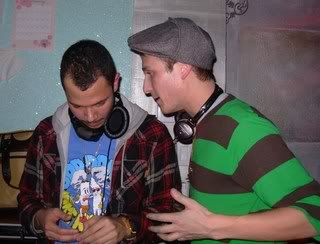 Man, am I beat today. I did introduce myself to the guys when their hands were freee. Everyone who knows Kristian, loves Kristian, so when I said I was his friend, their faces lit up. Nice. I hope Saturday night there turns out as cool.