I'll skip the drama part of my evening for now, and just talk about the show last night at the House of Blues. There was an opening band that I missed but it sounded like they were a cover band from where I was, though distinguishing a band from the music in the bar/restaurant from 6th avenue is sometimes not that easy.
When I finally got in (!) Charlotte Martin was finishing her set and my cranky, not yet ready to relax self saw her as another Tori Amos wannabe who is humping her piano/keyboard/synthesizer bench while tossing her mermaid like blond mane around. Had I not been in angry bitch mode, I probably would've liked her.

I got some fresh air between sets and decided I wasn't gonna allow my night to be ruined, so by the time Aqualumg started, I'd made my way up front. From my count he played 4 new songs from his upcoming release and around 7 from his first release, with a couple of them changed up a little for good measure. This was my 3rd time seeing them and I know there are very obvious Radiohead and Coldplay influences, but that is ok with me. The new stuff is less melancholy and at times felt like ballads that Bono might cover in the future and then all of the sudden Matt Hayes would get the attention he deserves. Or maybe I'm just a sap. Either way, I'd snapped out of my mood the moment he hit the stage.
Between sets Matt signed posters and talked to fans, where I verified my count of new songs. He said, "Yeah, four, I lost count of the old ones though. What you think?" I told him that it is obvious he is happy and in a good place. I guess not all my music requires a side of razor blades.
When he finished I bumped into Daye and his friend who had a bar hookup, so she got me a couple beers throughout Pete Yorn's set. I was actually not looking forward in any way to seeing PY again, partly because his set at the 94/9 wasn't that impressive to me and partially because he was kinda a dick to me when we last met (though he'd been cool in the past). But those boys with guitars win my right back over. I'm so damn easy. He was backed by a band of 5 other guys and the heavy strings sounded great, way better than when they try to play electric guitars. Pete seemed happy and played for a long time, the crowd was in it, and Pete has even thrown in some hand claps in songs. I also think because the set was heavy on early stuff, it was more enjoyable since for me, that is the stuff I really liked the best anyway. I like his later albums, too, but Music for the Morning After was one of those albums I played constantly and had attached meaning to every song, so they're just a little more special. The set lists are always posted on MySpace, so here it is:
house of blues, san diego, ca, february 19, 2007

vampyre
pass me by
for us
just another
when you see the light
undercover
don't mean nothing
for nancy
the man
long way down
policies
lions
the good advice
murray

encore:

strange condition
dead flowers (the rolling stones)
crystal village
closet
life on a chain
After the show I had to pass out cards and stickers for a bit, but everyone clears out relatively quickly at the House of Blues, so when I was done, I headed to the Casbah for Anti-Monday League. It was more to support Tim and what he's doing than anything else...plus I have a perfect record for AML, so I couldn't just miss it.
Four Kings was the band. They are a four piece (shocking) from OB. At 16 I would've loved this band. They have a bit of the funk rock thing that Red Hot Chili Peppers was so good at (through Blood Sugar Sex Magic) and then obviously overdid and killed for former fans like me. The bass is really heavy, Primus style, which I liked, but there were less than 10 people in the room, so I don't think there was any reason for them to be as loud as they were. They also tried a slower tempo song which felt out of character. Still, I have a bias when I hear that a band is from OB, and I'd say they exceeded my expectations and then came right back to meet them when they sang about smoking pot.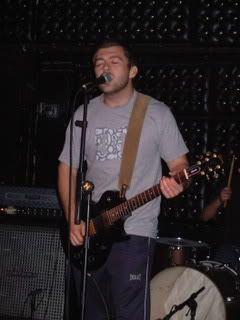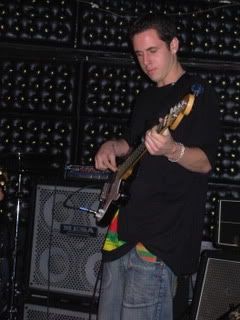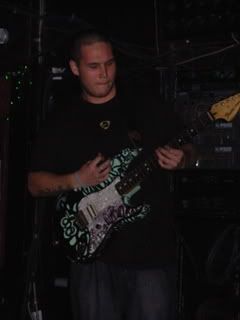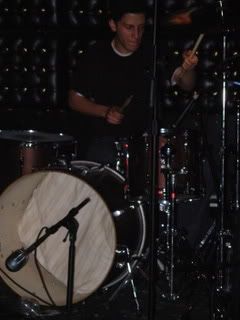 I was home by 1 am and am rearing to go tonight. I am not even gonna let the House of Blues get to me. Or at least I'll try...