So much cool stuff this weekend. Like my sister Claudia's 9th birthday party. The theme is Tinkerbell so if anyone has a tutu I can borrow, please let me know. If you're a fan of children's birthday parties, hit me up.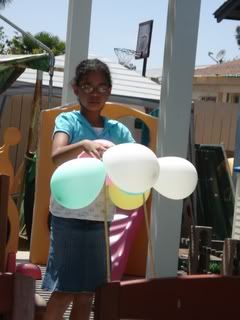 But there's also other cool stuff happening around town. Here's some advance warning for a couple things:
*****
My lovely friend Andrea manages the Village Hat Shop in Seaport Village.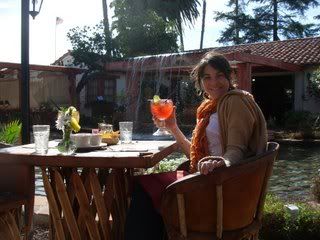 This is a huge weekend for them in anticipation of Opening Day at the track. The event is written up in CityBeat's Coolest of the Cool:
People don't wear hats like they used to. The ribboned, feathered, trimmed and banded hats that were hip a century ago have been replaced by beanies and baseball caps. Blah. But at 11 a.m. Saturday, July 14, classy hats are back in business when the Village Hat Shop's Seaport Village
store holds its third annual Pre-Race Day Trunk Show. You can pick out your Del Mar opening-day (July 18) topper, or just something nice to wear to brunch, a wedding or just to amuse yourself. Kimberli MacKay, design director at Betmar Hats, is flying in from New York to show off Betmar's Spring/Summer 2008 line (yeah, already). And the first 50 customers who buy a Betmar hat get a Betmar custom-made hatbox. In case you didn't know, hatboxes are just plain cool. Join
the millinery madness at Village Hat Shop, 853 West Harbor Drive. 619-233-7236.

www.villagehatshop.com

.
*****
Ray At Night is happening on Saturday night and I swear one of these days I'll actually make it there. In fact, this might be the weekend to do it.

"STRAW DOGS"
Jason Hendrix, Aren Skalman and Brian Taylor present a 3-person show with visual and conceptual artworks exploring the topics of nationalism, foreign policy and spin.
Opening Reception Saturday July 14th, 7-10 pm
Ray at Night
PLANET ROOTH GALLERY3811 Ray StreetSan Diego, CA 92104

Read all about it and see samples of the art on Cullen's
blog here
.
*****
Scarred Live!
Saturday at the Len Moore Boys and Girls Club Skatepark in Chula Vista, MTV takes over with a 3 hour taping of Scarred, that gnarly show where skaters, bikers, bladers and random other people attempt crazy tricks, end up breaking something, and end up walking you through their injury and subsequent surgeries, casts, hospitalizations, and eventual recovery. MTV will be showing the top 10 clips and then allowing audience favorites to reattempt their tricks. It's gonna be so rad. I ran with all the skaters in high school so this should resurrect some nostalgia, along with the cringes and of course, my old lady observations that start out with things like "kids these days..."
The event is from 11am to 2pm at the Boys and Girls Club of Chula Vista Skate Park on Oleander.
Tickets are free to skaters but you have to pre-register at 1iota and get there by 9:45 a.m. If you can't make it, watch the broadcast on MTV that afternoon at 2pm (or live on east coast feeds) More info here.
I am totally looking forward to this.
*****

OB Summerfest:
Saturday, July 14, 2007
2:30 until 7:00 PM
Winston's
1921 Bacon Street
San Diego, CA 92107

Music from:
The Off Beats
Shea Stratton
Stratosphere
Playground Slap
Chelsea Flor

There will be an awesome spread of Sandwiches, Fruit, Veggies, Deserts, etc.

Admission is only $5, and all of this fun is absolutely yours! The Party starts at 2:30 and goes to 7:00. So, try to come down and see what all of the excitement is about!
*****