Last night I got a solid nap in, had dinner, and found myself couching and flipping between American Idol and Find The Next Pussycat Doll before it occurred to me that I had to get out of my house and away from bad tv. Fortunately shows at Scolari's start later than most, so when I arrived around 10:30, the bands still hadn't started. Before going, I didn't even really pay attention to names of the bands playing, I just went because I trust Action Jackson's shows, and because one band is part of the Sounds Familyre family.
First up was Paddleboat, which is the solo work of Jeremy Scott from The Vision of A Dying World. The funny thing was I was unaware of his moniker until after he was done and while he played, I thought about what I would write here today. I was thinking of a sunny but breezy spring day on a pond in a small boat with an ex-boyfriend who has done me wrong and is trying to get me back with sweet little songs to butter me up. Paddleboat couldn't be a better name for how he sounds and I really enjoyed his short but sweet set.
Modern State was up next. On this night, the band consisted of two guys, one on guitar, the other juggling a trumpet, a xylophone, and various pedals and effects, and as Ryan Orion said, "you get the feeling that everything they say is important." In that way, they reminded me of Two Gallants but with less anthem, more dissonance, and a lot more experimentation (and no drums). They really blew me away, actually. I appreciate political music and their anti-capitalist themes struck a chord with me. They even had self screened CDs and shirts. In between songs, the singer announced, "We are for secession from the union if you'd like to talk to us about it." Power to the people.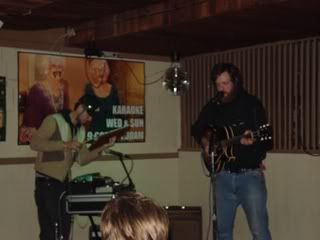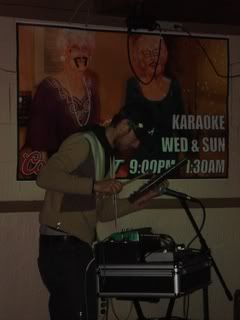 I have to mention that between bands, I kicked Ryan's ass in pool. Aww yeah.
Unfortunately, while I love leftist politics in my music, I can only handle religion in small doses. If I had read this site, I might've known what to expect. Sometimes blindly going to a show is not such a great idea...
1955 shows a transition in Soul-Junk's sound. The
double-disk set consists of pop / Indie rock / hip hop influenced sounds. It is
also the last disk to make extensive use of biblical quotes – though Soul-Junk's
lyrics still clearly reflect their Christian worldview.
I myself would classify the sound as less indie, more stoner rock, but with a heavy dose of Jesus. The thing for me about that was the first couple songs, either I wasn't paying attention or they were not steeped in religion. It felt like all of the sudden, the lyrics switched to bible study. Half the people sorta snuck their way out. On top of that, the bassist had his back to the crowd the entire set and although it was Scolari's and the "stage" is less defined, it would've been nice if he acknowledged those of us who stuck around.
Anyway, they finished around 12:30 and I took off rather quickly after saying goodbye to Ryan, Riyadh and Jackson. I decided to stop at the Ken Club for karaoke but that ended up being a bad idea as I watched a guy do Paula Abdul's Straight Up and another do 2 Live Crew.
Sometimes you find a gem; sometimes you just gotta call it a night.