I know I am not speaking for myself when I say last night was amazing in many ways. No cover for three amazing bands, amazing band posters and music photography hanging on the walls, hosted Han Vodka drinks (at least for the first hour or so), and a ton of local music supporters, including many in bands that were reviewed in the demo issue of CityBeat. And for those of you bitter about bad reviews, Seth Combs was there so you missed your chance to kick his ass. Along with most of the CityBeat staff, Tim Pyles was there hanging out, as was Chickrawker, Roman Spring, some of Vinyl Radio (among many others) and Ruggy (Notorious R.U.G) and Jamal (Kid Lightning) were on the tables. I got the chance to talk to John Paul and recommended that GOP blog about their SXSW experience so hopefully they do that soon. Like the girly girl I am, Kristen and I chatted in the baño about music, SXSW, blogs, and people who diss San Diego. The whole deal was a pretty rad night, to say the least.
The Airlines were the first band on. Troy was embarassed that in his introduction he said that he liked their recorded stuff but had never seen them live so "they could totally suck." They didn't suck, in fact, and I was wondering where they've been hiding because they were really good.
They were described to me as sounding very "Strokes-ish", but I'm not really a Strokes fan so that description didn't really work for me. I wish I could offer up better, but did I mention there was FREE. VODKA.???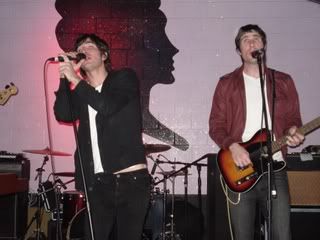 Anyway, I loved them, and they're all pretty damn sexy, too.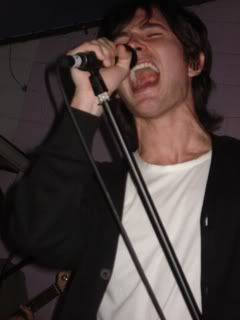 Extra points for the singer using the box in front of the stage as a stage extension. I tried to convince Eric of Swim Party to use the box but he politely declined. Can't win em all.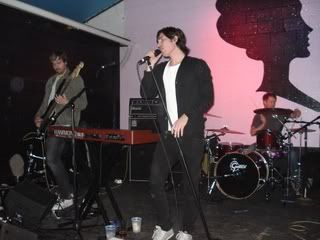 Double extra points for bravely playing a sped up version of "California Stars."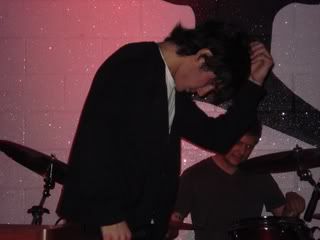 By the way, I'm really glad that I was basically described as an annoying photographer by CityBeat because it gave me license just squeeze on up and take pics.
No review for Swim Party and Grand Ole Party because, well, you already know I love both; I think both are amazing not only for their music but because they represent the best of what San Diego has to offer. Good peeps and good tunes. Doesn't get much better than that.
Swim Party: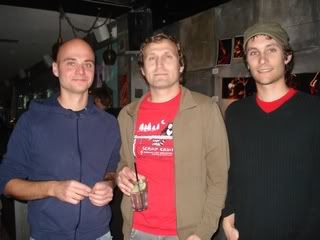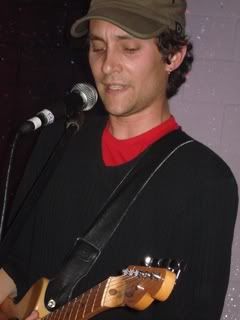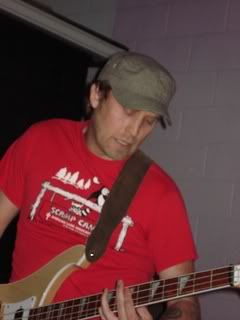 Alex, is that a big hunk in your pocket??
Grand Ole Party:
I! N! S! A! N! E!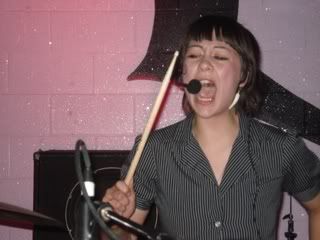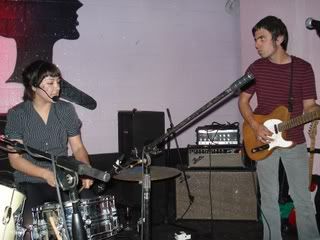 Let those record deals pour in! And now I shall lay myself down for a looong nap.