Last night I was revving to go, ready for some rock and a total party, but then I showed up at the Casbah. That is not to say I didn't enjoy the bands and their respective performances, but the music made me wish I could pull my cal king bed in the middle of the Casbah floor and bury myself under a hefty down feather comforter.
The first band was Minipop. They had told me via MySpace that I'd be on their guestlist, so I sold the ticket I had pre-ordered only to find my name absent from the list. Ben was cool about it, though, so I won't hold it against anyone. As far as the band goes, I know I need to get over my anti-chick bias, but another band fronted by a chick on keys singing in a breathy voice has become pretty cliché so I decided to listen to the band from outside while hanging with Lyn and Seth. Seth said something to the effect that the band felt molded specifically to write songs for Gray's Anatomy. He said it as a diss, but I am hooked on the show and the music that goes with it, so I guess I'm the sucker, but true that a lot of that music doesn't translate well to anything more than an super mellow live performance by those bands. As they played, the vox was less breathy but the band still just did not draw me in. Not to say the CD wouldn't be a good one for my rainy day music collection, but I was ready for the next band to wake me up.
I made my way up front for Esther Drang.
I was in the front near this guy.
I liked the initial vocals from the second song, it kinda reminded me of Tim Burgess of the Charlatans, but there was an amp nearby and the guy was playing and mixing and the sound coming from his amp sounded like he was in his own band doing his own thing entirely. I thought maybe my earplugs were tricking me by isolating the sound, but even when I took them out, it felt that way, so I decided to move to the back of the room.
From the back the sound was more blended but his playing still felt separate. It was a Sesame Street "one of these kids is doing their own thing" moment. I also realized the vocals were nothing like Tim Burgess. Tired of trying and also tired of being pushed by people passing through, I retreated to the patio once again. I think I would've really liked Esther Drang, too, but too much mixing, using delay pedals, etc. just lost the music for me.
Lyn and I decided that we would make our way to the front for the headliners, Midlake. When we went inside, there was the "too cool gap" so we just went right up front, pissing off all the people who were too cool to move forward. Sorry suckas. To further piss them off, four friends saw us up there and maneuvered up front with us. We're such assholes. There was plenty of time for the rage to build because Midlake literally has a boatload of equipment.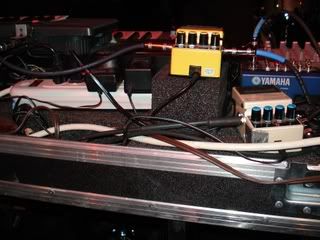 I knew I liked the band but only based on my listening to their MySpace songs. I like the layers to their music and the harmonies, and the dramatic piano/key parts suck me in.
I was trying to be polite with my camera since I was front and center...
but I wanted less fuzzy and more redeye! Just kidding, but redeye happens when you're using flash in the dark this close... so you just gotta get them when they close their eyes.
I stayed up front for 5 or 6 songs, then decided the people behind me probably really hated me by now, so I bailed for drinks/bathroom/patio. Oh, here's the rest of the band: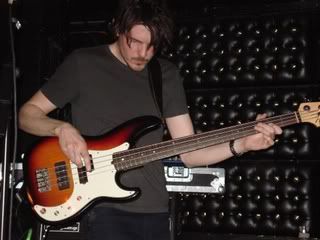 I was still enjoying Midlake's sound, but it's very consistent and there are no surprises, so I got swept into conversations in the patio for pretty much the rest of the show. The show ended around 1 and after hanging out a bit, I was on my way and in bed by 2. This is why I love my half day Fridays. I see, in fact, it is almost nap o'clock!
Blogger has been giving me problems the last two days, so I'll do my best to update this weekend, but if not, have a great weekend, everyone- don't forget to buy your poor blogger a cocktail.