Last night's House of Blues show was actually down in "The Delta Room" at the House of Blues. This is the room normally saved for private parties or used as a lounge area when there is a show in the main concert hall, however last night, it was the scene of quite a good time.


Princeton
was the first band and a perfect fit to play with Kite Flying Society. They are a four piece from Santa Monica who plays loose jangly pop with sweet vocals. They use guitars, keys, sometimes drums, sometimes tambourine, sometimes horns (was that an oboe??), ukeleles, etc.
I liked the band and did before the SD show was even booked (see how cool MySpace can be?), but to be honest, there's was this feeling of the room of us vs. them, in a way. Being from LA, Princeton brought a crowd, and then there are all of us locals who are friends with KFS and were also celebrating birthdays, so the locals were all chatty (yes, me too) and scattered around the lounge, and Princeton's crowd were up front videotaping and dancing and having fun. Still, the band was good and I bought their CD for $6 to compensate for my sheisty maneuverings to get into the show and avoid ridiculous drink prices. Scoreboard: Rosey 2, House of Blues- Zero.
I don't understand how the House of Blues functions sometimes. If the mainstage shows say they're going to start at 8, they pretty much start at 8. The rest of their stages, they can say 9, 9:30, 10, doesn't matter, it's never accurate, which is understandable in the sidestage room because it is the same room used for restaurant seating, but there was no reason for delays downstairs. When people pay to go into the venue, they should be allowed to go into the venue, not left to sit in the patio for 30 minutes. And think of all the $9.50 shots you could've sold in that time! Anyway, my point to all of this whining is that because the show started later than people expected, people left early. Some left, presumably, to drive back to LA, but a lot of people who paid to see KFS left because it was late and they all work early and didn't get the pre-show nap in like I did. Or maybe they just got pissed that a shot of whiskey was $9.50.
Whatever the reasons, the crowd thinned out a little but all those peeps missed out because Kite Flying Society were great. The sound wasn't perfect, but boatloads better than the sidestage. The carpeting (made to look like layered persian rugs) and sofas lended to the feeling that you were at a house party and hanging with friends and for a second you could forget that you were at the House of Blues. Well, at least until you had to order a drink. (Yow, another zinger. I will keep whining about those damn expensive measured pours.) They also played some stuff from the new album (release date: July?) which sounded good.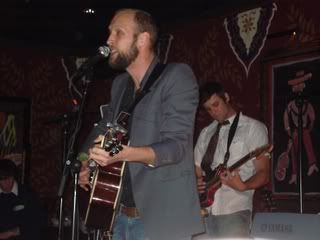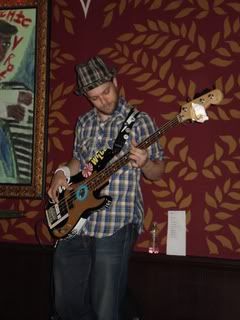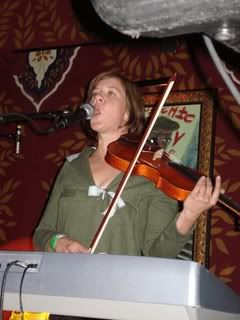 This picture was actually taken while the band was still playing. That's Todd the drummer on the left: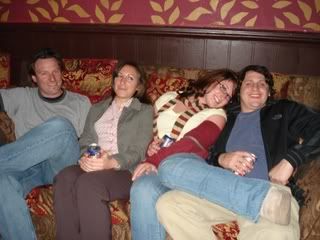 And then leaving the show, who can resist a photo in front of the Everything $5 store?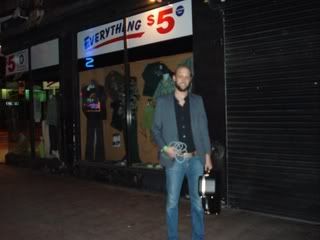 After the show, the whole venue, restaurant, and bar were shut down. Way to make us feel welcome, House of Blues! Really glad I parked on the 6th avenue side and had to walk the sketchy walk past the trolley station (aka crack alley) at midnight.
Andrea and I headed up to the Sports Club to try to catch Republic of Letters but they were already finished. We did hang out for a bit to finish celebrating Kara's b-day, but everyone has to sleep eventually, so we hit the road, but not before the mandatory tacos from La Fuente. Mmm, love that heartburn...