Sorry that I'm just getting around to posting, but it's been a hectic day. I did go out last night, so I'll recap briefly but mostly I'll let the pictures speak for themselves. My night actually started at A/C Lounge, where Troy Johnson was spinning new music to a mostly CityBeat employee crowd. If Troy's music selections were playing in every jukebox around town...Arcade Fire, Gomez, Peter, Bjorn & John, among others I would be a happy girl (and not just resigned to playing CYHSY at the Ken Club). When his time on the stand was over, however, it was back to club music, starting with JT. I would've left but I'm not one to turn down a complimentary drink ticket, so I had a second Peroni and then was on my way.
I arrived at the Casbah later than I planned and somebody at the door was pissing off the door guy. Rule number one about the Casbah- Don't piss off the door guy! If you are going to arrive to a show separately from your friends, buy your will call tickets individually or buy far enough in advance to have hard tickets. It just makes everything a whole lot easier. Once they worked out whatever they were working out, I got in to see the tail end of Berg Sans Nipple.
They are a two piece band, the drummer from Nebraska and the mainly keyboardist from France. The two of them were rockin out while using various pedals and percussion instruments to create loops and sounds. They were both high energy and I was surprised by how many people were there to see an entire evening of instrumental music. I've seen them described as dreamy electronica, their myspace page describes them as combining textured minimalism and emancipated-rock. Um, blah blah blah, blah blah. That doesn't tell me anything. But the stage is full with a lot of shit, they play hard, and I was wondering if we were supposed to be standing there jaw dropped and arms folded or if someone somewhere actually dances to this music.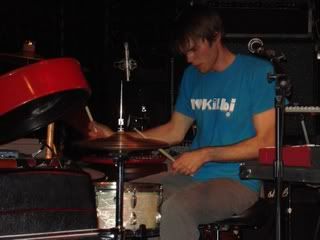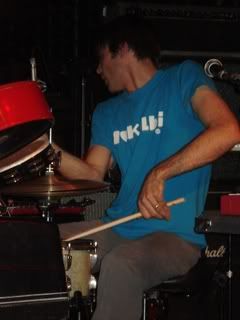 The Casbah was packed by the time Do Make Say Think
hit the stage, and I was running around and failed to land a decent photo-op spot up front. There were 8 people on stage, including two full drum kits, a violin, keys, guitars, a couple horns and other stuff I just couldn't even see. Again, all instrumental, and this divides people into two factions, I think...the ones who are blown away by the aural landscape provided by the musicians onstage (and who would also say I'm an idiot for not listening to the band before the show), and the other faction, made up of people like me who love the build up like the exposition to a great story, but who want something more. We were the ones outside saying that it felt like we were witnessing something historic happening, something huge, but it never got there, because all we want was someone to sing, to put words to the music we can't grasp and translate on our own. The layers were beautiful, the musicians totally talented, but my interest can not be suspended that long.
I passed my camera up to Andrea to take some pics, but the setting was wrong so most didn't come out. I also heard somehow my camera made it onstage and the keyboardist snapped a couple shots. Toward the end I made my way up for a couple pics, too. So here's some of those, all mixed up.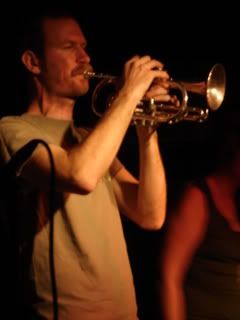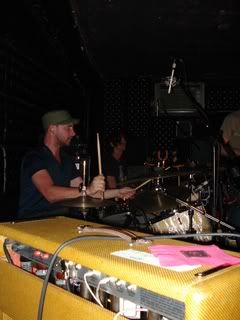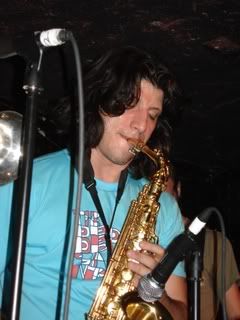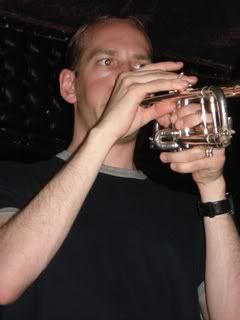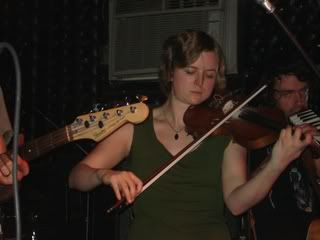 All in all it was a great night and I'm glad I'm getting exposed to post-punk edgecore electronic lush landscape math prog whatever music by seeing so many different bands, but all I'm saying is you'll never see me be a snob about it, and you may need to explain it to me every once in a while, too.