I am running on fumes right now, but last night was so fun, I can't say it wasn't worth it. Vinyl Radio had their CD release show in conjunction with Rockit Entertainment's 2 year anniversary. The Blackout Party and The Ringers played in support, there were free burgers, and despite random moments of rain, there were a lot of people there and most stayed until the very end of the night.
I arrived during The Ringers set. As I made my way up to snap some shots while digging through my purse, the singer jumped off stage and started looking through my purse with me. Full of stage antics and high kicks, the band totally rocked and got the crowd properly revved up. Vinyl Radio will be touring with the Ringers which I think will be a very successful tour. The Ringers get regular airplay on Indie 103 in LA, so their exposure can do nothing but benefit Vinyl Radio. Crowd favorite "Beaver Fever" was catchy but also hilarious as Joe hooked his forefinger in middle finger, gesturing a finger bang. They closed with their (LA) radio single, "Keepin Your Head Up" and the frantically dancing rockit girls up front were lovin every second. The chaos results in good photo moments.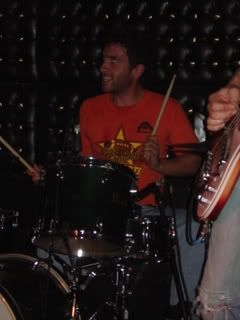 and my favorite: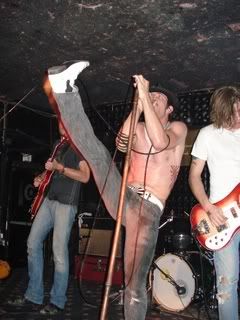 The Blackout Party was next onstage. For as long as I've wanted to see them, I was instead running around the bar and somehow ended up watching their set on tv in the back bar. They sounded good for the first couple songs that I watched, but there was just too much activity happening for me to be still. Also, the Rockit girls were up front dancing and I'm not the only one who thought it was very artificial...more "look at me" than "this music makes me shake my ass."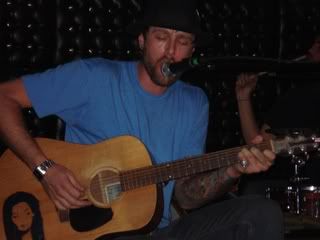 There was a raffle between bands to win the chance to spank one of the Rockit girls which really killed the momentum of things. As it was, Vinyl Radio was supposed to start at 11 and didn't get on until close to 12. The whole band was onstage as they called number after number and no winners responded, prompting the girls to just pick people to spank them. That, coupled with the cheesy Core Magazine banner in the Atari lounge along scantily clad model pictures gave the night a very FHM/Maxim feel, which I certainly could've done without, but maybe other people didn't mind, I can't say. Anyway, after having my time wasted by the spankings, Vinyl Radio was introduced by Troy Johnson.
They were great as always, though the energy was a little low. They had to try to regain the momentum lost. The show was good but I will say that the last show at the Casbah was so good and they set the bar so high, that for me this performance was fun, but I also felt free to continue running around the bar, making it feel like being at a friend's party than being at a show. Here are some pics, and the setlist which they ended up mixing up, anyway.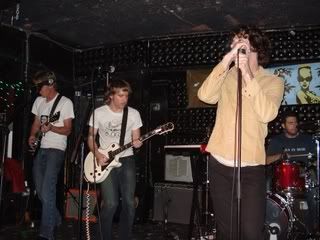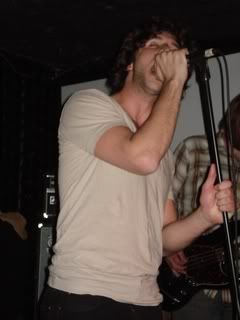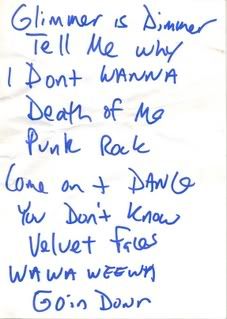 The guys in Vinyl Radio have a friend Fernando who helps them out and goes to all their shows. Sometimes he'll even tell you he's their manager. I will reserve comment, but I had prearranged with Matt to record a song in their set. He told me to video the second song, so I asked Fernando, who was manning the stage lights, to turn up the lights a little during the second song. Frustratingly, that did not happen. Still, here's the video. Maybe you just hit play and listen more than watch, since you really can't see shit. Thanks for lookin out, Fernando.