I've stalled on writing this review because I've been cranky all day, but it has nothing to do with the show, so it's time to get on with it.

Andrea and I arrived in Solana Beach shortly after 8. I pre-purchased my ticket but she hadn't. When she called earlier, the girl at the box office told her she wouldn't have a problem, and I'm sorry to say, she was right. The show was very underattended, but especially for the openers. This show started earlier than most, I suppose, but I'm glad we got there early.

Thomas Dybdahl was first onstage. He's a singer songwriter from Norway who sounded a lot like Tom Waits in recording. In person, he's voice seems less scruffy and more pretty, but I liked his incorporation of almost R&B grooves in his songs. There was even a point where I could picture him doing "Careless Whisper" or something. Everyone in the club was sitting down, except for me, right up front, so I could get some pics for y'all. Clearly I have no shame.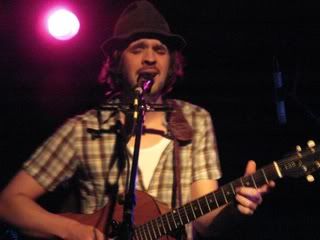 I saw Willy Mason about a month ago at the Sunset Sessions, but this time he was backed by a full band. He still has that deep monotone voice that I love, that feels like he's from another era, but with backing female vocals and a full band, and the awesome sound that only the Belly Up can provide, I really enjoyed this performance.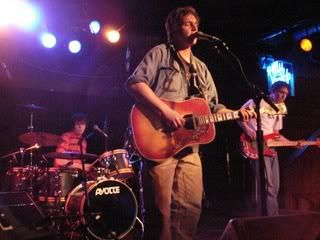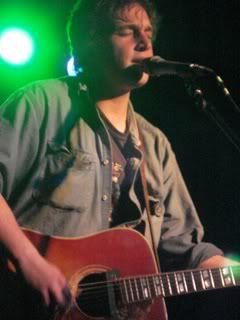 His little brother played drums



I recorded my favorite song from the last time I saw him, "Save Myself".



Sondre Lerche came on right around 10:15 or so. I don't know what I was expecting. I love Phantom Punch but it's sorta been overshadowed in my rotation by other new releases that have come out this year. Anyway, I had no idea he would rock so much. Especially because when we walked in the venue earlier, he came by the merch table while I was looking at stuff and I had him sign my CD and he was all quiet and buried in his hoodie. He was really energetic and happy and chatty onstage. In fact, though he doesn't quite stick his butt out as much, his onstage demeanor reminded me a lot of Rhett Miller. Beautiful looks, beautiful hair, happily rockin out. I am not a musician so maybe I don't know what I'm talking about, but I didn't realize that his music was really mostly based on jazz chords (which usually make my skin crawl). Sondre Lerche and the Faces Down pretty much rocked my Tuesday night.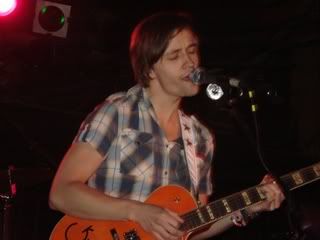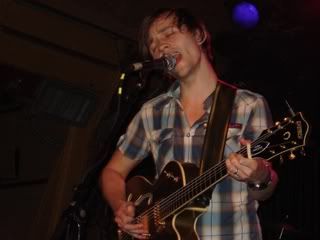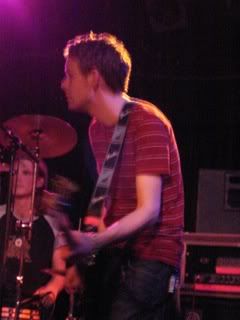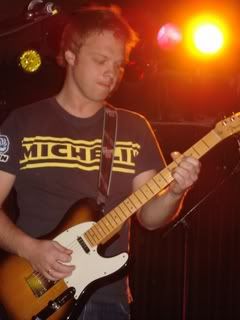 I actually recorded two songs, but the first one ran up to 6 minutes, so here's a shorter one. This is "She's Fantastic".



The show was done by 11:40 or so, and instead of zipping out, I got the band to sign my setlist before they went to the merch table for signings. Fantastic.