After Shawn Colvin, I zipped over to the Casbah and, yet again, missed The Blackout Party. I caught their final song which had the sound guy pissed off because he didn't think "one more song" was gonna be 10 minutes long, but it was a good song, so 10 minutes didn't kill anyone. It sounded good though, really long intro, kinda reminded me of something that could be found on Two Gallants' first album, albeit with a complete band. I really liked the flute in the song, too. You don't see too many bands, let alone guys, busting out a flute onstage.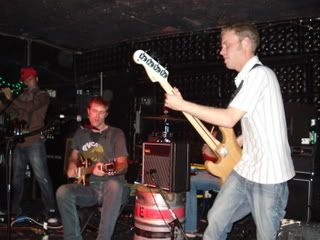 Ryan Ferguson followed The Blackout Party. I have only seen Ryan once before, maybe a year ago? at the House of Blues. That was an acoustic set and I really liked it. This time, he had a full band who, as I understand it, are going to be his permanent band and they sounded good. The acoustic stuff translated fine to full on pop songs. There's something to be said for songs that are familiar and recognizable though I had only heard them once before.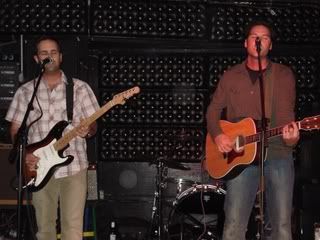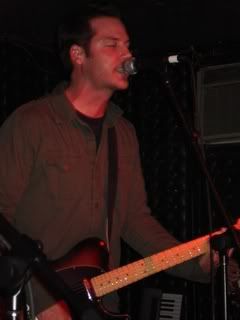 Here they are performing "Suddenly". I love this song, kinda reminds me of an updated "Happy Together". My camera didn't quite pick up the sound mix which was better in the venue, but you get the idea.
Ryan Ferguson has been signed to Better Looking Records, who also represent The Electric Soft Parade and Goldrush.
It was nice to see a ton of people out last night. Greg Laswell and Anya Marina were there, as were Ryan's former No Knife bandmates. Otis from Reeve Oliver was there, Sean from Firethorn, Dag and David from Two Word Name, Peter from Roxy Jones and Troy Johnson and Scott Richison among others. Needless to say, I probably had a little too much fun for a Monday night.
Part 2 will be posted soon...