My Google alerts are blowing up with blogs and sites posting the news that the White Stripes have annunced a tour. In fact, the dates being posted are from the 2005 tour. It's one thing for blogs to get it wrong, but Billboard? Filter? lame.
*****
Another Viejas Concert in the Park:
Bloc Party-
Saturday, June 16, 2007 at 8:00pm
General AdmissionTickets $35.00 on sale Friday, March 23 at 10 am!
I know that's not a cheap ticket, but I saw the Gipsy Kings there one year an every seat is a good one. If you like Bloc Party a lot, I recommend sucking it up and springing for a ticket. After seeing Joss Stone a couple weeks ago, I would really go out on a limb and recommend that show, too, if you even just kinda like her.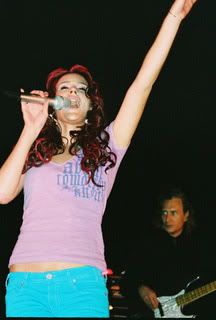 *****
Shout out and happy birthday to my brother, Eddy.
*****
Last, tonight's Anti Monday League at the Casbah is FREE, so you have NO EXCUSE to miss it, unless you're at the Zombie for Lesbian.
The Blackout Party - 9:15 - 9:45
Ryan Ferguson 10:05 - 10:45
Electric Soft Parade 11:05 - 11:45
Goldrush 12:00 -
*****
On this anniversary of the war I can't make it to a vigil, but, um, yeah.