Last night there was a benefit for Free Radio San Diego, FM 96.9. If you are unaware, it is a pirate radio station and is currently off the air because they were getting harassed by the FCC, but they plan to be up again soon. It has been around for over 4 years. For now, the station can be heard online
here
. They made close to $400 last night and I was really amazed at the huge turnout on a Sunday night. Here's a pic of Dave, the singer of Vitro, modeling a FRSD shirt: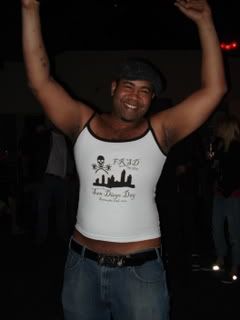 I arrived as Red Feathers were already in the midst of playing their set. I only caught a couple songs but thought they were great. You should listen to their tracks on
MySpace here
. They are playing at San Diego Sports Club on Wednesday for Pussy Galore and Action Jackson told me they're playing a show at the Ché on St. Paddy's Day along with The Vision of A Dying World and The Muslims.
Red Feathers were followed by Apes Of Wrath. "Yeah, there's other bands called Apes of Wrath, but fuck them." And that's pretty much how their music was, too. Good and carefully sloppy and aggressive but with restraint. Fun, fun show.
My small complaint about Apes of Wrath is that they broke down their equipment onstage, instead of pulling off the drums and then breaking down on the side of the stage. This resulted in what seemed like a really long set change between bands. I did not get a pre-show nap in and knowing that Roxy Jones still hadn't started by 11:30, it was not looking good. This made me feel especially bad because Peter prepaid my donation. Awesomest guy ever.
I did stick around for four songs and they were fun to watch. Peter's so comfortable onstage, it's really quite impressive to me. They've also added a bassist which gave the music a fuller sound than in the past . There was no screaming although the sound was really loud to me. I'm no authority, however, because when Peter asked how it sounded, the audience overwhelmingly told him to turn up the guitar and vocals even louder. Midnight came around and I wanted to stay but I wake up at 6:30 and this is going to be a busy enough week, so I had to call it a night before I turned into a pumpkin, but all in all, fun show, good cause. Doesn't get much better than that.