Dear Camel Cigarettes,
I realize, and you've been sued into realizing, that you are killing a lot of people with your cancer sticks. Your marketing has obviously worked over the years, and no amount of legislation is going to stop you from roping in new smokers and keeping them hooked for life. In 40 years (maybe already), we'll probably see Camel Hospitals and all the people who sign up for your e-mails and willingly let you photograph our licenses will be able to save Camel dollars for hospital bed upgrades or titanium lungs.
In the meantime, we deeply thank you for having to find new ways to market vis a vis free concerts in San Diego. The Camel Lounge at Coors Amphitheatre? That was just playing around. Now you put on concerts of big name bands (The Faint, The Rapture, Meat Puppets) in small venues (Casbah, Beauty Bar, 4th & B) and get us not once, but twice, to sign up for more! free! cigarettes! Then you take our picture while we happily and drunkenly smoke your signature blends. You're genius. And we are really, really stupid. But we thank you mostly, because frankly, last night fuckin rocked.
*****
The night started with a group of Bostonians called The Sterns. I heard mixed reviews from the crowd, but I really liked them. Good melodies and harmonies, and while nobody agreed with me, the timing of their vocals against the grain of the music slightly reminded me of the Housemartins. They were scheduled to play Anti Monday League and then were told that the Meat Puppets were playing, so for people who were kinda wondering how the bands fit together, that's the story.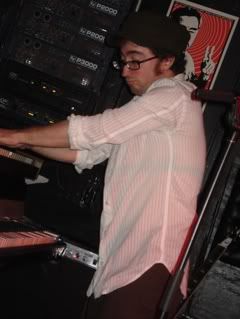 After the Sterns, Fatso Jetson took the stage. Again, there were mixed reviews, but I started to realize there were just a lot of people there only to see the Meat Puppets who haven't listened to any new music in the last decade. As for Fatso Jetson, the constant harmonica throughout the songs and the occasional sax gave the band a roadhouse blues feel but with a harder edge. Roadhouse punk? Anyway, I liked them, but listened from that patio while chatting with Alex and Mikey from The Sterns who, by the way, were super nice guys and on their long drive way back to Boston today, but they loved San Diego and hopefully will make their way back again.
The Casbah was totally packed to the gills at this point of the night. It was exacerbated by the fact that the back bar had been turned into a VIP lounge (take a picture with a Camel Cigarette Girl on your lap!!) so everyone was smooshed on the patio. Didn't much matter though...the liquor was flowing and the energy was high and then finally, it was time for the Meat Puppets.