Monday was quite the marathon of a night for me. From work, I had to pick up a cake from the panadería, go home, let my dog out, feed the cats, take a shower, take the cake to CatDirt's house, and get to the House of Blues. All in one hour. Somehow, I pulled it off. This was the first time that I've ever been on a guest list at the House of Blues when I wasn't
questioned or second guessed by the person behind the desk, and everything I needed was there waiting for me: two all access passes and one photo/video pass. Once secured, I went to the loading door, the security guard called someone, and was promptly instructed to walk me into the venue. It was so hassle free I kept expecting something to go wrong.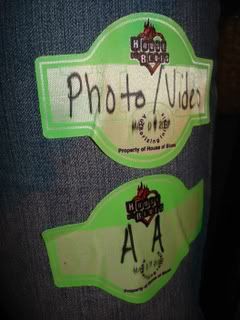 I met Claire the tour manager and as she set up the merch for Aqualung, went over basics with me. Before the doors opened, there was time to go backstage quickly where I was introduced to everyone in the band, offered beverages, and jokingly warned by Matt that at any second, they would go wild and "(my) head would explode". Instead, he and his brother Ben chilled on a couple couches, the other guys playing with laptops, and before I knew it, it was time to get to peddling. I didn't even have the chance to bust out my camera.
Only because I had other plans after the show was I disappointed that there was a third act on the bill. Where most shows there are done by 11, especially the all ages ones, this was going to go until 11:30. I flashed back to the night that I tried to make Cold War Kids after Gomez and Ben Kweller and barely made it. I decided it was outta my hands and just decided to enjoy the show.
The first band was Solare from LA. A three piece mostly downtempo band, they appropriately compare themselves to Smashing Pumpkins. I liked them, but I was busy with all the people coming in to buy pre-show merch to give full attention. My only issue is that when they sound checked, it seems they did so for a full room. Since people very slowly filtered in and most didn't arrive until the end of Sara's set, the band was pretty loud even with earplugs in. I did take a half-song merch break to snap a couple quick shots, but the railing was pushed up against the columns, so there was no area for me to go to for pics except in the general crowd. Such a bummer.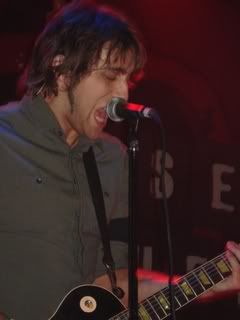 Christine, the bassist pictured above, came and helped at the merch table after their show and was a super cool chick and really appreciative that we were there to help out.
Sara Bareilles was the second performer. She was accompanied by a drummer and had a large following of fans there just to see her, it seemed. A girl behind the piano, people compared her to Sheryl Crow, Norah Jones, Sarah MacLachlan and the like. I got busy during her set so really didn't get a chance to hear as much as I would have liked to. I had to go outside to use the phone (cell phones are worthless in the HoB) to make sure Andrea was set to arrive and help out and whatnot. Judging by the fact that her CD sold out between acts, however, I would say she, at the very least, has a captive audience in the many tween/teen girls that were there to see her.

Andrea showed up just before Aqualung started. When they took the stage, I made my way near the front, but again, with no photo barrier area, I was kinda stuck taking pretty bad photographs. The photo pass limits picture taking to the first three songs, which all had bad blue and red lighting so I'm sorry this is the best I captured.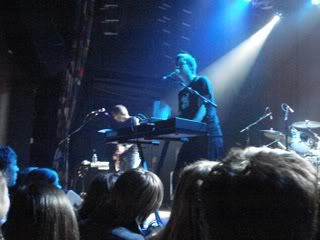 The show itself was amazing. This was the longest set I've seen them play so far. I have to admit that I fell in and out of love with a guy with the first album, "Strange And Beautiful" as my soundtrack, so there's a sentimentality that I have that still gets me every time, but the new songs are just as great and I really recommend checking out "Memory Man", too. Highlights for me were "Glimmer", when the drummer busted out a violin and a cover of Wilco's "Muzzle of Bees" from "A Ghost Is Born." Matt hoped that he did the song justice, and in my opinion, he did more than that.


The show ended as scheduled at 11:30, the venue mostly cleared out save for people hoping to meet Matt in the autograph area. When he came out about 15 minutes later, people took pictures and shook his hand while we hung back and finally had a beer. Again, I failed to bring out the camera, but it just wasn't the time. Once our merch was counted out and the beer done, Matt signed my setlist and Andrea and I were on our way.
The reason we were in such a hurry was because Kite Flying Society was playing at the Casbah, and that cake I had delivered to CatDirt earlier in the day was for Tim Pyles' birthday. I got a text saying they hadn't cut it, though I had told them I might not get there, so fortunately, we got there for KFS' last song and were able to cut and distribute the cake before everyone went home. No big "happy birthday" song, but it was a good way to end the night anyway.
I can't believe its only Tuesday.
FYI: Aqualung will be performing "Outside" on The Tonight Show tomorrow, May 9.