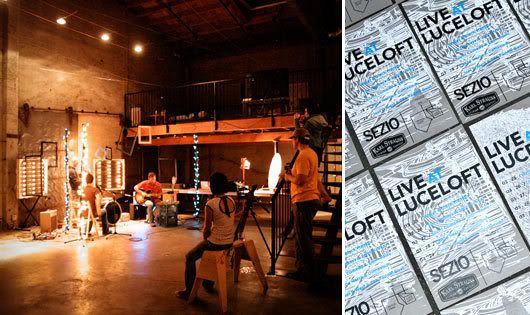 Sezio has put together an amazing music series that happens next week in San Diego. Live @ Luce Loft, a five night, music series taking place the last week of March, will be at their downtown home away from home. The space will be transformed into an intimate living room setting, playing host to 10 of San Diego's favorite bands and musicians.
They have purposely paired acts with a slightly different sound and following in order to cross pollinate our city's musicians and music lovers. Sezio is excited to announce the following lineup:
03.25 / Writer & Black Mamba
03.26 / The Donkeys & John Meeks
03.27 / Silent Comedy & Swim Party
03.28 / Calico Horse & Demasiado
03.29 / Joel P West & The Paddle Boat
We are less than a week away from Live @ Luce Loft, and the pre-sale tickets are going fast. If you haven't bought yours yet, get down to Subtext Gallery in the next four days to grab some.
Event Details:
- Doors open at 7pm, with music starting promptly at 8pm.
- Luce Loft is located at 1037 J. Street. (between 10th and 11th)
- This event is 21+ only
Tickets: WILL NOT BE SOLD AT THE DOOR - PRE SALE ONLY.
There are only 100 tickets for each evening ($5 each). They are being sold at Subtext: Gallery & Design Bookstore (across from the Casbah) through March 22nd. Subtext is located at 2479 Kettner Blvd. and is open Thursday - Sunday, 1-7pm.