Friday, April 13, 2007:
Sandra's Birthday at the Tower Bar: Punk Rock Karaoke (Go to the

Tower's MySpace

page for choice of songs and sign up.)

Modlins, Ex-Friends @ Whistle Stop

Lou's Birthday: Greg Laswell, Gregory Page, Anya Marina, Lisa Sanders, Aaron Bowen, Robin Henkel, Rob Deez, Jamie Robb, Julie Mack, Josh Damigo, Derek Evans, Daniel Crawford, Isaac Cheong, and other special guests and surprises @ Lestat's

The Frantic Romantic, True Crime Authors @ Ken Club

Fu Manchu, Valient Thorr, Lovemotor @ Casbah

Swandive, Fono @ Beauty Bar

Condemned, The Funeral Pyre, Cerberus, The Marquis DeSade @ Scolari's

Unspecial, No Sign Of Weakness, One in the Chamber @ Chaser's

Ithaca, Baja Bugs, Airiel Down @ San Diego Sports Club

Dreaded Solution, Blood Stain, Abject, Plan 13, Hallowed Drive @ epiCentre

Fonseca @ House of Blues

Toots and the Maytals, Stranger @ Belly Up

Lightning Bolt, Bug Sized Mind, Strip Mall Seizures, Ghost Ship, Zsa Zsa Gabor @ Ché Café, $8, 7pm

CPM, DPI, Gizzards, The Yucks @ O'Connell's

Blackout Party @ House of Blues (Salvation Alley- FREE!) 10pm

Club Pop Noir @ The Static Lounge (18+, bar available for 21+)

Triple Crown Pub's 7th Anniversary- Catatonic, Heathen Culture

Sara Petite @ Ould Sod
Saturday, April 14, 2007:
Free! Ray At Night 6-10p. Make sure to stop by Kate Ross to see photographs by Andrew Foster (went to high school with the Shins!) and David Fennema.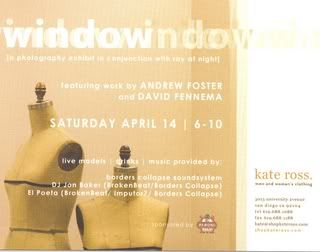 Augustana, Vega4 @ House of Blues

"Shake Shack" presents NY Station @ Ken Club

Hello Operator, The Transit War @ Beauty Bar

No Dice, Rhythm Stompers, Those Rockin Bullets @ Chaser's

The Mother Hips, Billy Midnight, Luca @ Belly Up

Amiina @ House of Blues Sidestage

Hella, Whose Your Favorite Son, God? @ Casbah

Social Unrest @ Rhythm Lounge

moe. @ 4th & B

Eats Tapes, Powdered Wigs, Kixly, and tba @ Ché Café, $6, 8PM

Mono Mono, PpqQ , Bill Wesley, Glowing Oceans @ Scolari's

Gina Villalobos, The Truckee Brothers @ Lestat's

Eve White Eve Black, Guilt By Association, Sloka @ Alibi

The Wastrels, The Hillstreet Stranglers, Dirty Panties, Inciting Riots @ O'Connell's

Superunloader @ 710 Club

Free! The Bologna Ponies @ Distinction Art Gallery, 118 E Grand Ave, Escondido. Also, Artists' Reception with complimentary wine and snacks

Castillo @ Epicentre $15 8:30 (A&R Open House)

If you're feeling philanthropic: All Out For Autism, an Autism benefit at the Aerospace Museum in Balboa Park including cocktails, food by the French Gourmet, and auction tables. Big band will play standards. For more info, click here.
Who You Callin Apathetic? Earth Day Events in OB. Click here for more info.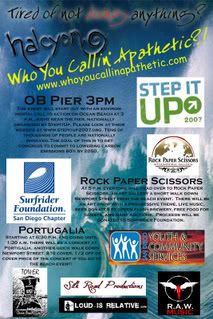 Record Show @ 3909 Centre St, Hillcrest. 9:30-2:00. $5 ($10 earlybird at 8:30)

Triple Crown Pub's 7th Anniversary- Band Of Goodmen, Steady Echo
Sunday, April 15, 2007 (happy birthday to my little sis):
Rocky Votolato, Drag The River, Street To Nowhere @ Casbah (Rocky is my #1 favorite singer/songwriter. I highly recommend checking him out.)

Deerhunter, The Ponys, Jena Malone and Her Bloodstains @ Beauty Bar

Early show (3 pm): The Michael Tiernan Trio, Sven-Erik Seaholm (dual Cd Release) @ Belly Up

Late show (9 pm): Jedi Mind Tricks, Sean Price, Grayskul @ Belly Up

The Adicts @ Cane's

What The Funk, Jeffrey Scott Band @ San Diego Sports Club

"Dog Day" @ Wine Cabana- Bring your dog! 1-6pm. I think Pascha and I will be there...

Psychoactive, Inhale @ Zombie

Eric Clapton @ iPayOne Center

Free! Sunday Seizure Comedy @ Honey Bee Hive, 8pm

Thread (Fashion Shopping Event) @ The Aerospace Museum 11am-6pm. $7 RSVP/$10 door. 80 Designers, runway shows, djs, art gallery, cocktails, etc.

Triple Crown Pub's 7th Anniversary- Fading Captain, Rochester Fosgate (6:30)

Charlie Louvin @ Acoustic Music San Diego