Before I continue on about the bands, a couple comments. First of all, I spent way more money that night than I should've because all drink prices have been increased 50 cents, and while that is not a big deal, it also appeared that bartenders had been pour tested or something because all the pours were very calculated and, let's be honest, they were weak. I ordered from all three bartenders and experienced the same thing from all of them. Boo Casbah. For one night, I felt like I was being served at the House of Blues.
My other complaint goes directly to Dynamite Walls. You guys are all great, so this isn't personal in any way, but that big obnoxious white sheet on stage for your projection images looks really cool when you're onstage, but it's actually the ugliest backdrop ever for the other bands who are forced to play in front of it. On your headlining nights, I say go for it. But on this night, it felt like thunder stealing. The Casbah is famous for the awesome black tufted naugahyde cushions along the back wall and when in pictures, that is replaced by a plain white sheet, it's just kinda lame. Maybe you can turn it somehow into a roman curtain that you can lower for just your set?? Or maybe some tiebacks?
So onto the show, which had Dynamite Walls in the dark with their projected visuals on them. So of course, I used flash to capture just a couple pictures.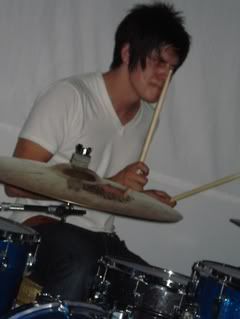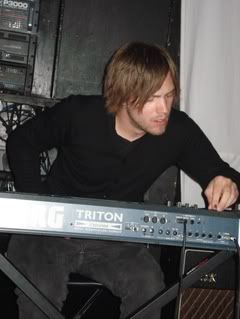 I'd be lying if I said I caught most of their set because in reality I spent most of it on the patio with the guys from Republic of Letters and Illinois and other friends just enjoying a great Casbah turnout for a Saturday Night. Our supportive local scene is thriving, people...we should all be proud to be a part of it in anyway.