Words are not enough. Arcade Fire gave an amazing performance to a sold out crowd at Spreckels, and despite the fact that I know there were a lot of out of towners around, it didn't spoil our fun.
I skipped the Mute Math in-store, deciding that AF was all the music I wanted and needed for a day. Or a week. Or forever. I arrived at Spreckels, found myself princess parking, and headed into the venue. I bumped into some friends and we decided it was beer o'clock and went to Horton Sports Bar (?). More people joined us and somehow 7 became 8 and 8 became 8:45 and we had completely missed Cass McCombs. Instead we went to the venue, arriving just as the house lights went dark and the yells and cheering filled the venue. I passed off my camera to Nick Montes, a friend of mine with waaay better seats than me, and went up to my balcony.
We found our seats (which actually weren't bad) and got lost in the show. That venue is amazing and while not a church, has that quality that only old theatres and churches have. As the band went into Wake Up (4th song?) we realized the crazies dancing on the side of our balcony were friends, so we bailed our seats and stood there for the majority of the show.
photo by Nick Montes
After an hour and a good sampling of both Funeral and Neon Bible, I was sure the show was winding down and was trying to get my camera back but Nick was ignoring his phone song after song. We watched from the balcony as 4 awesome people jumped the barricade to dance and two guys jumped on stage. We watched the barricaded area fill up with tons of people and Win jumping into the crowd. We watched tons of people flood toward the front of the stage. I wanted my camera. So I raced down to the floor, made my way to my friends, got my camera, and watched the rest of the show from the floor.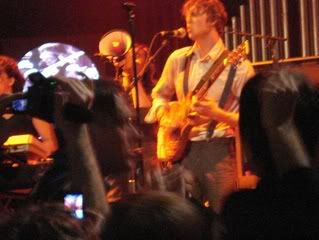 photo by Nick Montes
Part of the awesome part of the whole show was that it was a Tim Mays/Casbah event, so all the guys from the Casbah were the main security...so Porter walking through the crowd saying "clear the aisle" was more for going through the motions than to actually evacuate those of us down there without the right tickets. The ushers were nowhere to be found, so that was cool, too.
photo by Nick Montes
There's just something about the whole show that was kinda overwhelming. That many people singing along, on their feet most of the show, clapping along, everything. Alex of Swim Party said the show was a religious experience and probably broke up a lot of bands who feel they couldn't live up to the example set. The bar was set high for sure.
photo by Nick Montes
Win got a little mad about some feedback, but I didn't really notice. 9 people onstage with 8000 instruments and amps and mics, I can't imagine there not being some feedback at times. I had hoped that the band would encore in the foyer as they had in London and NY, but instead they gave us a double encore. The night ended with Neon Bible, as pages of a bible were rhythmically torn out one by one. The whole night was simply amazing.
There was no making it to the Rapture as the show ended closer to 11. And really, how could that have even compared? Instead a whole slew of friends headed to Dobsons for late night cocktails as we recapped the night. I feel lucky to have gotten tickets, I feel lucky to have witnessed such an amazing show, I feel lucky to have been surrounded by so many friends, and I especially feel lucky to have been backstage during the soundcheck earlier in the day. Now that it's gone, I need to find something new to look forward to.