I'm lazy. Here are some bands I like, some bands with new stuff, some bands coming to San Diego soon, and some bands that I like that have new stuff that are coming to San Diego soon.



"The Drop to the Top" Only Son
(formerly of the Moldy Peaches, appearing at the House of Blues Apr 29, in support of Regina Spektor)


"Unbeast the Leash" - Videohippos
(Ché Café June 17)


"Blood on the Slacks"-Golden Smog-
Click the link to preview tracks on Lost Highway.


"Trading Twilight For Daylight" Great Northern
(Beauty Bar June 1)
download an MP3 of "The Middle"
here
. The CD will be released 5/15.


"Ode to Ochrasy" Mando Diao
(Casbah, May 21) (you can hear the full album on their MySpace page)

Finally, if you're a regular at my site, you've noticed the new banner at the top of the page and you also know I love me some
Aqualung
. Somehow this translates to a contest for you.

For your chance to win the following prize pack:
- Aqualung hoodie
- Aqualung t-shirt
- a copy of his latest cd Memory Man
- and a hard-copy of Ragged
I'm gonna make you dig through this site a little. I have seen Aqualung 3 times in San Diego. Name one of the venues where I've seen him. I will select a winner at random from any entries I get by the end of the day on Thursday. E-mail your answers to divebarchick AT gmail DOT com. Include name, address, tele. I promise I won't give your info out or tp your house.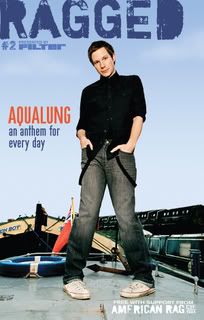 that's all for now.