Well, I finally did it. For the first time, I went to Soma. So it wasn't really my FIRST time, considering I had been numerous times to the old location off Morena, and also to the downtown spot (where I was arrested at 15 before a Ned's Atomic Dustbin show), and I've even been to the Sports Arena location for a Sidestage show (love my Deccatree), but this was my first time in the main stage area for a show at Soma. And guess what?? It wasn't half bad. I mean, it probably would've been more fun if I'd snuck in some airplane bottles of booze like the 16 year olds did, but The Shins and Viva Voce were stellar and enough for me to have a pretty damn good time.

I arrived in the venue about 10 minutes before the show started and found my way up toward the front to meet up with Dave. We saw all of Viva Voce from relatively close to the stage though I had my eyes out for any opportunity to push forward. That opportunity never came.

Viva Voce were really good. They were supposed to play a show last year with Kite Flying Society but for some reason it got cancelled so it was nice to finally see them. They're a two piece outta Portland (married?). Anita (?) sings lead on most songs and plays guitar and her husband (?) plays drums, occasionally bringing out a guitar...but my friends and I agreed there was some sort of additional equipment because her guitar was more full than what she was playing and there was a distinct bass line ... maybe there was a korg back there that I couldn't see from my vantage point behind that 6'3" dude... I liked their set though I was bummed they didn't play the one song I know and love- "We Do Not Fuck Around." You should go listen to it on their
MySpace page
for a good feel of their sound...



My bad photo but at least gives you some perspective...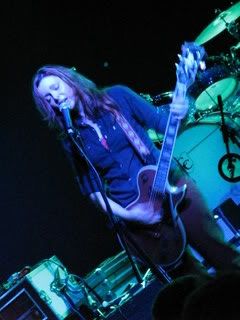 photo courtesy
David Fennema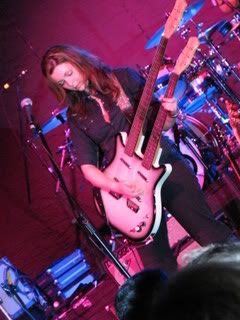 photo courtesy
David Fennema
My other friend Dave found us up front and sent me some pics, but they're about as blurry as mine, so I'll just post this one because it's not terrible. Or maybe it is. Perspective. Anyway, it also represents how cool people were about letting us squeeze him in with us because we were sardines up front. I don't remember people being cool like that ever at the old Soma...instead I remember getting pummeled against the railing during a couple Lucy's Fur Coat and UJBOD shows.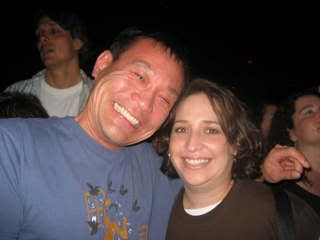 This was my fourth time seeing The Shins and I honestly don't know what the hell people are talking about when they call them boring. It's so easy to read Pitchfork and regurgitate their opinions as your own but if you were bored at the show last night at Soma, then I'm sorry, my friend, it is you that is boring. My only beef with The Shins is that they should claim Albuquerque...not Portland. That's pretty cliché and boring...but everything else about them...fucking. awesome. Behind them they had a huge canvas backdrop similar to the artwork of the latest album which would've been a good photo backdrop if my camera didn't suck. Fortunately I was with superphotographer David Fennema and he took these tasty nuggets for your benefit...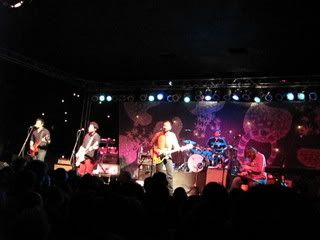 photo courtesy David Fennema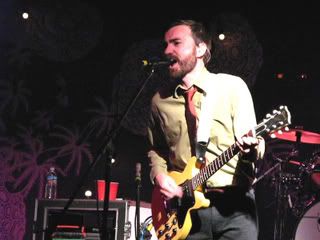 photo courtesy David Fennema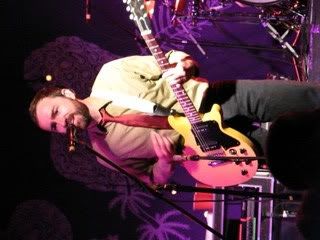 photo courtesy David Fennema
photo courtesy David Fennema
We were up pretty close, and had I known how crowded the venue had become, I would not have budged, but I knew chances of getting a setlist were slim, even with two friends working at stagehands for the show, so I headed back and took a pic of the setlist for you, my loyal lovelies...
(they skipped the Pink Floyd cover in the encore. Looks like Soma is pretty strict about a 10:30 end time for shows.)
Getting through the crowd was a little tough, but it wasn't so bad because I managed to bump into my homies way in the back: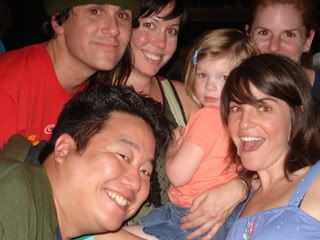 And let Tricia be your Guide To Good Parenting: The first concert I remember ever attending as a kid was Andy Gibb at the Wild Animal Park. I was probably five and still have vivid memories of his leather pants and feathered hair, but really, where is the street cred in that? No, be like Tricia and bestow upon your child the gift of street cred. "My first show was seeing The Shins at Soma. I was three." Yeah! That's what I'm talking about. And who knew there were baby earplugs??
The sound was great, even way back where I didn't need my own earplugs anymore. Maybe the sound is always great there, or maybe it can be attributed to the fact that this was a Casbah produced show, I'm not sure, but regardless, I was a happy camper. The show ended around 10:30 and the crowd slowly filtered out. Against my better judgment, I was ready to party so after stopping home, walked over to hang at the Ken Club for the rest of the evening, because sometimes, I guess, there's no place like home. I know I say it every week, but I am so happy that the weekend is finally here. My plans are always subject to change but today I will be at Kensington Vine (pre-show bevvies), The Whistle Stop (The Modlins, Ex-Friends) , and The Tower Bar (Punk Rock Karaoke for Sandra's Birthday); tomorrow at my sister's birthday BBQ, hopefully a stop at David Fennema's show at Kate Ross for Ray At Night, Vega4 and Augustana @ HoB, and then obviously close my night at the Ken Club, then Sunday, time for my favorite musician (and Viva Voce's labelmate) Rocky Votolato at the Casbah. Thank god I have HBO East and can watch Sopranos and Entourage on east coast time, eh? Have a fun a safe weekend, Party People!