My original plan for Tuesday was to be a responsible citizen and go to a MoveOn meeting to "virtually" meet the candidates for the '08 election. Then I was reminded that it was the second Tuesday of the month, which means "Palate" at the W Hotel, where liquor vendors come in and let you sample their booze for free. It's not always booze, once it was tea, but most of the time it's booze. In my past experience, these events are poorly publicized and thus poorly attended and this one was no exception. For the tequila tasting, I was the only person there. For the sake tasting, it was just Andrea and I (and my pregnant sister who could only smell the sake). This time there were 8 of us there to try the German Wines from Truly Fine Wine, an importer and wholesaler.
I'll put the rest of the pics up on the food blog, but there was plenty of wine to go around, and that is the food after the 8 of us were done. It sucked for Damon and Sabrina, but obviously we didn't really mind getting extra pours. The event was supposed to last an hour, but we stayed till close to 8.
After a quick stop at home, it was back out to the Casbah. Roxy Jones started the show early but I took some pretty awful pics of them (due to my poor skills) so you can pretty much look up all my other entries about them. I've seen them plenty in the last few months and love the added bass, but I've said that so much I'm boring myself. Thanks to Peter for the shirt and putting me on the list.
Though Maps and Atlases were the touring band, they played second. I didn't know anything about them, and even now after the show has settled in and I've absorbed their CD a couple times, I can't express how much I enjoyed their set and have no way of describing what I saw. They're from Chicago and play mathy prog rock but there's so much more than that can explain. I recorded one of their songs, but I'll have to upload that some other day. They were damn good and lots of jaws were dropped when their set finished.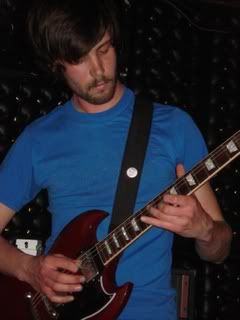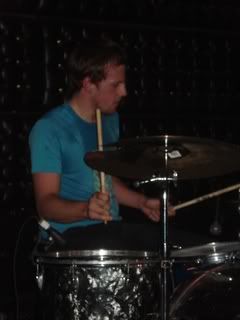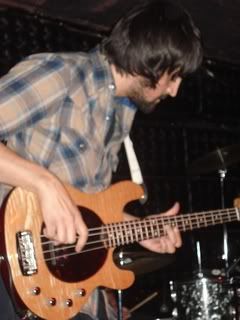 After the set, the band proved to be one of the nicest bands I've met and truly appreciative of the crowd and they were as excited as the rest of the crowd to see Nurses.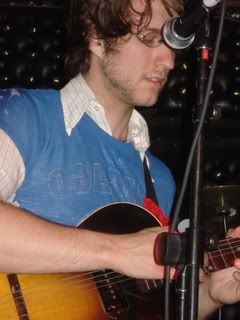 I don't wanna embarrass Dave, but the chin and cheek dimples when he sings were killin me. Cute.
Anyway, Nurses finished up the night. Everyone has been talking up this band a lot lately. Originally from Idaho, they now reside in Temecula but hope to move into a more central area of San Diego. They were good, but I wasn't feeling CatDirt's comparison to The New Motherfuckers at all. They had this cool 70s vibe mixed with carnival type sounds and whistles. Someone told me they are San Diego's own Arcade Fire, and I guess I hear that comparison a little more. Regardless of who they sound like, I had a great time watching them and can't wait to get really shitfaced with them sometime...
These pictures give some indication of bartender Ben's generosity throughout the evening: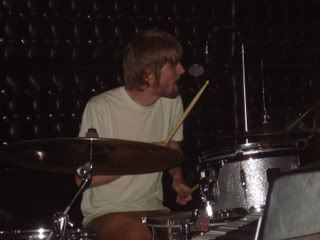 You know when I start taking pics in the MTV angle, it's time to put the camera away for the night... I didn't even get a picture of the 4th guy in the band with his awesome handlebar moustache...
Hopefully I can throw the videos up on vMix promptly, but I don't really do anything promptly, do I? The show ended early but quite a few people were hanging around chatting with the bands and whatnot, but we did eventually head home before becoming pumpkins. I think tonight might require me to just stay in for an evening...my dog deserves it.